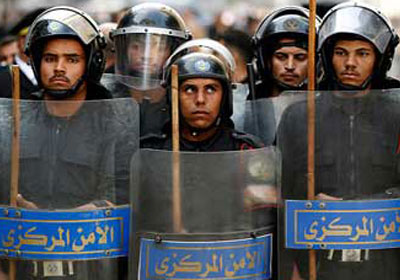 Central Security Forces - Shorouk
CAIRO, June 6 (Aswat Masriya) - Police forces intensified security measures in major squares across Cairo on Friday in anticipation of protests for which the National Coalition for Supporting Legitimacy has called.
The coalition, which backs former President Mohamed Mursi of the Muslim Brotherhood, had called on its supporters to rally on Friday to voice their rejection of the military.
Tahrir Square saw heavy security with more than 17 military vehicles deployed at the Egyptian Museum's side gate near Abdel Moneim Riad Square, the Middle East News Agency reported.
Formations of central security forces and an armoured vehicle were also stationed near Simon Bolivar Square in the vicinity of the U.S. Embassy in Cairo.
On the other hand, central security forces and one military vehicle were deployed at the main entrance of Rabaa al-Adaweya Mosque in Nasr City.
At the Ittihadeya presidential palace, six military vehicles were stationed along Merghani Street and barbed wire was prepared in case the street is sealed.
Security forces and more vehicles were deployed near Omar Ibn Abdel Aziz Mosque opposite the palace.
In Giza, Nahda Square saw tight security measures as well with military vehicles deployed around the square.