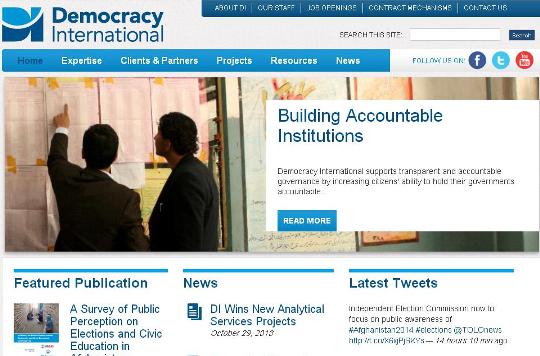 A snapshot of the official website of Democracy International
CAIRO, Jan 7 (Aswat Masriya) The U.S.-based Democracy International will send a delegation to Egypt this month to observe the country's constitutional referendum.
The team, which will consist of 80 international observers, will be spread out in Egypt's 23 governorates to monitor the voting process on the new constitution and the counting of ballots.
"In accordance with the Declaration of Principles, DI observers will witness all phases of the two referendum days, including opening procedures, voting, the closing of polling stations, the count, and throughout the tabulation and announcement of results," a statement by DI said on Tuesday.
Egyptians will vote on the constitution on January 14 and 15.
The mission, which will account as the largest international observation team to watch the constitutional referendum, will be sent in response to an invitation from Egypt's High Electoral Commission.
The observers will include election experts, regional experts and experts in development and politics from 10 countries.
They have held meetings with Egyptian stakeholders and judicial members to discuss arrangements and preparations.
The team is expected to write a statement commenting on the two-day referendum when the process is finished and another in weeks after the vote, evaluating the whole process.