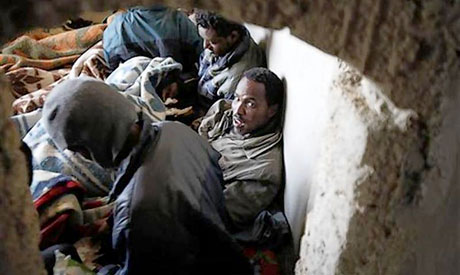 Migrants from Eritrea rest in a building, used to house people waiting to be smuggled into Israel, near the Egyptian-Israeli border in Sinai December 25, 2010 - Reuters.
Justice Minister Adel Abdel-Hamid said on Tuesday that human trafficking is a serious crime that poses a great danger to Egypt.

The statement came during a speech by the minister to a meeting of the National Committee to Combat Human Trafficking.

The committee is headed by Judge Ahmed El-Sirgany, who is also deputy minister of justice in human rights issues and is tasked with drawing up legislation to deal with human trafficking and illegal immigration in Egypt.

In his speech, Abdel-Hamid stated that the phenomenon of trafficking is on the rise and that it poses a great danger to developing countries that are currently suffering on all social, cultural and environmental levels.

The committee is composed of representatives of different ministries as well as representatives of the General Intelligence, General Prosecution, the National Council for Human Rights, the National Council for Childhood and Motherhood, and the National Council for Women.

The legislation committee at the Ministry of Justice has concluded the draft of a law to fight trafficking and illegal immigration.

Abdel-Hamid added that efforts to combat trafficking cannot succeed unless a complete strategic plan to ensure social, cultural and economic development is presented and acted upon.

Prime Minister Hazem El-Beblawi had issued a ministerial decree on July ordering the set-up of the committee and chose Judge Ahmed El Sirgany as its head.

The committee's first meeting took place mid-July, and was headed by Judge Wael El-Refai, former deputy minister of justice in human rights issues.