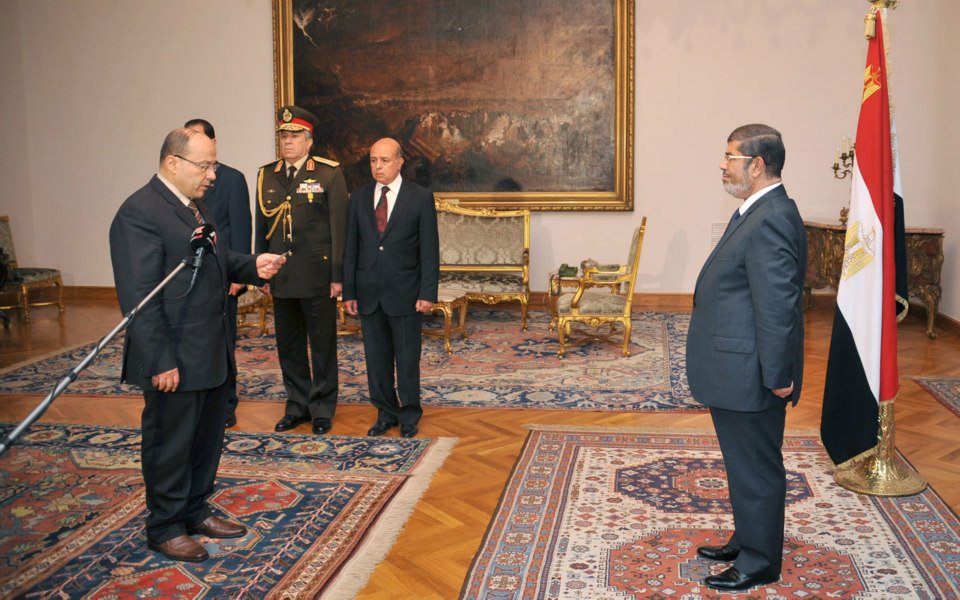 New Attorney General Talaat Ibrahim takes oath before President Mohamed Mursi - Handout
Egypt's Chief Public Prosecutor Talaat Ibrahim arrived to his office on Monday under heavy security in light of protests demanding his resignation by a nearby court.
Ibrahim, who was appointed by President Mohamed Mursi, retracted his resignation on Thursday sparking uproar from judges who had considered his resignation a victory for the independence of Egypt's judiciary.
The Chief Prosecutor is overseeing investigations in Sunday's attack of the head of the Judges' Club, Ahmed al-Zend, at the High Judicial Council's house.
The three defendants who were detained pending investigations and accused of attacking Zend and attempting to raid the court have denied all charges pressed against them.
Prosecution has received medical reports from Zend who claims is suffering from physical injuries due to the stone-hurling of the defendants.
Zend was attacked during his exit of the court on Sunday evening.