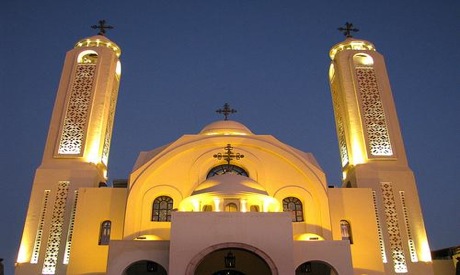 The Coptic Orthodx Church of Alexandria - photo from Reuters
Representative from Egypt's Christian churches have withdrawn from President Mohamed Morsi's national dialogue.
The Coptic Orthodox, Catholic and Evangelical churches decided to leave the dialogue on Wednesday because it was "unproductive" and did not "yield the desired results," said Father Rafik Gerish, the Catholic representative at the dialogue.
The dialogue had been discussing controversial articles in the recently approved constitution, especially with regards to freedoms.
The Coptic Watani newspaper said that the churches' withdrawal did not indicate an "unwillingness to participate in public affairs." The decision was taken because "the dialogue was not fulfilling its role of fostering positive discussions and prioritising national consensus."
The churches will release a statement on Thursday explaining the reasons for their withdrawal.
Representatives of the three churches met on Sunday to discuss the decision to withdraw.
The churches joined the dialogue to work for Egypt's "benefit and not for privileges for the churches," Evangelical Priest Refaat Fathi told Al-Ahram Arabic newspaper.
However, "the ruling party [FJP] is seeking a majority in parliament without guarantees for the representation of all groups," he added.
Several political groups also withdrew from the national dialogue recently, most notably the Strong Egypt Party led by former Muslim Brotherhood member and ex-presidential contender Abdel-Moneim Abul-Fotouh.
President Mohamed Morsi called on all political groups to start a national dialogue last December after the political strife created by the constitution and issuance of two constitutional declarations.
The churches also withdrew from the Constituent Assembly last November because the draft constitution was "unrepresentative of Egypt's diverse identity."