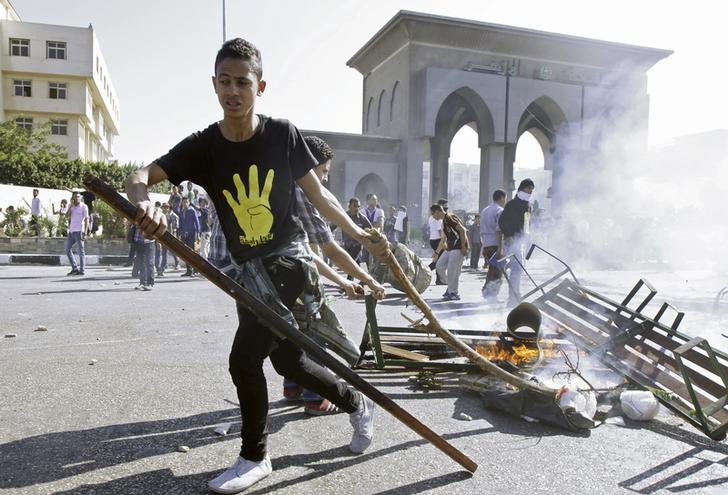 Clashes at al-Azhar University between students and security forces in Cairo on October 20, 2013. Reuters
CAIRO, Dec. 24 (Aswar Masriya) Egypt's al-Azhar University expelled 19 students on Thursday after an investigation into an act of violence dating back to July 2013.
Following the military ouster of former president Mohamed Mursi after mass protests against his rule on Jul. 3, 2013, clashes broke out between Muslim Brotherhood supporters and security forces on Azhar University's campus.
A source from the university told Aswat Masriya the decision to expel the students comes as a result of their involvement in acts of violence, sabotage and incitement inside the university. The students also raised political slogans. Their actions constitute a violation of the laws governing the university, the source added.
Today's decision brings the number of expelled students in Azhar University to 29 since the start of the current academic year, the source added.
Azhar University and many other universities across Egypt became the scene of repeated clashes between student supporters of the ousted Islamist president and security forces starting July 2013. Dozens of pro-Mursi students in Azhar University have been arrested and subjected to suspension or expulsion over the past two years.
At the beginning of the current academic year, Al-Azhar University boosted security measures, surrounding the university gates with large numbers of security forces and numerous checkpoints.
In the previous academic year, the university witnessed tens of students being expelled.
In April 2015, the Association for Freedom of Thought and Expression (AFTE), which closely followed up on the unrest in universities, reported that police forces stormed Al-Azhar University's campus (girls' branch) more than once.
The first half of academic year 2014/2015 witnessed monthly arrests of Al-Azhar students, with more than 70 students arrested in December, 2014 alone for alleged involvement in illegal protests on campus