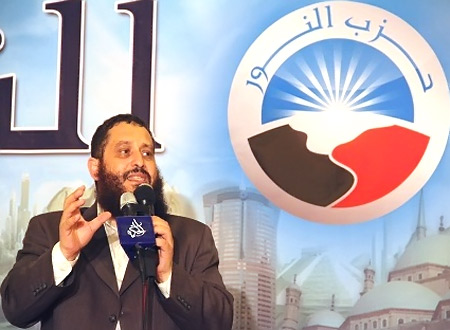 Emad Abdel Ghafour - Head of Al-Nour Party
Head of 'Al-Watan' Salafi Party and presidential aide, Emad Abdel Ghafour, said on Monday that Egypt is currently facing tough challenges that require confrontation.
In a press conference held by the Watan Party in Sohag, Abdel Ghafour said, "Challenges increase by the day; lack of security, economic deterioration, the fall of Egypt's currency and the increase in the state budget's deficit."
"Egyptians are tired of political conflict, they do not care which cabinet comes. They care for the services provided to them; housing, healthcare and education. The people want to better their economic situation and find jobs, they do not care about whether the general attorney continues in office or not," said the former head of the Nour Party.
Abdel Ghafour stressed upon the importance of national unity between Muslims and Christians at this point, saying, "Islam and Christianity have common grounds, the teachings of Christ are similar to those of Prophet Mohamed."
He rejected the notion of forming popular committees to protect and secure buildings, saying, "Only the state is entitled to use force, there will be no alternative committees to the interior ministry. We need to support the conciliation between the people and the interior ministry."
Abdel Ghafour demanded forming a coalition cabinet with wide popular grassroots to take the right decisions. He added that the cabinet should represent all political trends.
The Salafi (ultraconservative Muslim) leader also demanded amending legislation to be non-discriminatory towards Egyptians, especially in the fields of investments.
He also suggested forming a government committee to conduct dialogue with "immigrant Copts" on basis of disclosure and reconciliation.