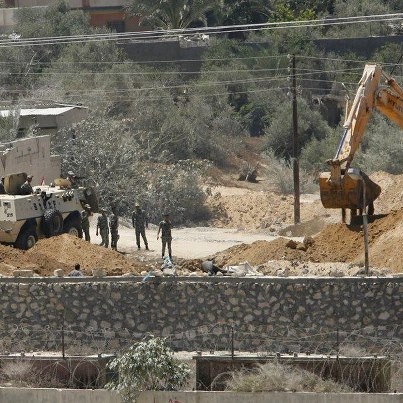 (Archive) Army forces supervise the process of demolishing tunnels in North Sinai - Aswat Masriya
CAIRO, Oct 18 (Aswat Masriya) – A military officer and two row officers were killed in North Sinai on Saturday when a tunnel collapsed as they were inside, leaving a conscript injured, an obituary on the army spokesman's Facebook page stated.
Security forces were destroying a tunnel at the border of North Sinai's Rafah City with the Gaza Strip, when the tunnel suddenly collapsed, an army security source, who preferred to remain anonymous, told Aswat Masriya.
The third dead officer was one of two officers reported missing earlier. He was salvaged from under the rubble, but the other officer remains missing, according to the source.
Egypt's security forces have intensified their security measures in North Sinai in reaction to repeated militant attacks that target army and police officials, which rose significantly since the military ouster of former President Mohamed Mursi last year.
Border guards have been destroying underground tunnels connecting Egypt's Sinai to the Palestinian Gaza strip since August 2012, when unidentified assailants killed 16 border guard conscripts.