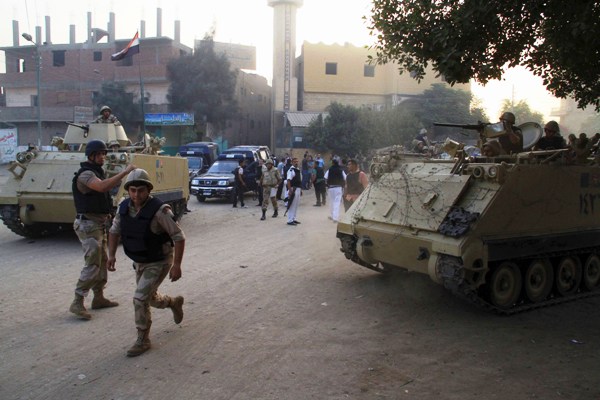 Security forces take their positions during clashes with gunmen in Kerdasa, a town 14 km (9 miles) from Cairo, September 19, 2013. REUTERS/Stringer
By Elsayed Gamal Eldeen
Ninety-eight people were arrested in the town of Kerdasa in Giza on Thursday when a security crackdown was launched in the area, a security source told Ahram Online on condition of anonymity Saturday.
It was initially announced that that security forces had arrested 51 suspects from the area and were still looking for other suspects.
The police station in Kerdasa was attacked on 14 August, allegedly by Islamist militants, in deadly violence that killed 11 policemen. The violence followed a crackdown by security forces on protest camps in Cairo in support of ousted president Mohamed Morsi.
On Thursday, Egyptian police and military forces stormed Kerdasa on Thursday to arrest those suspected of involvement in the violence.
A senior police official was killed in an exchange of fire with armed groups during the operation.
Kerdasa saw a tense calm Saturday as security forces continued to be comb the area.