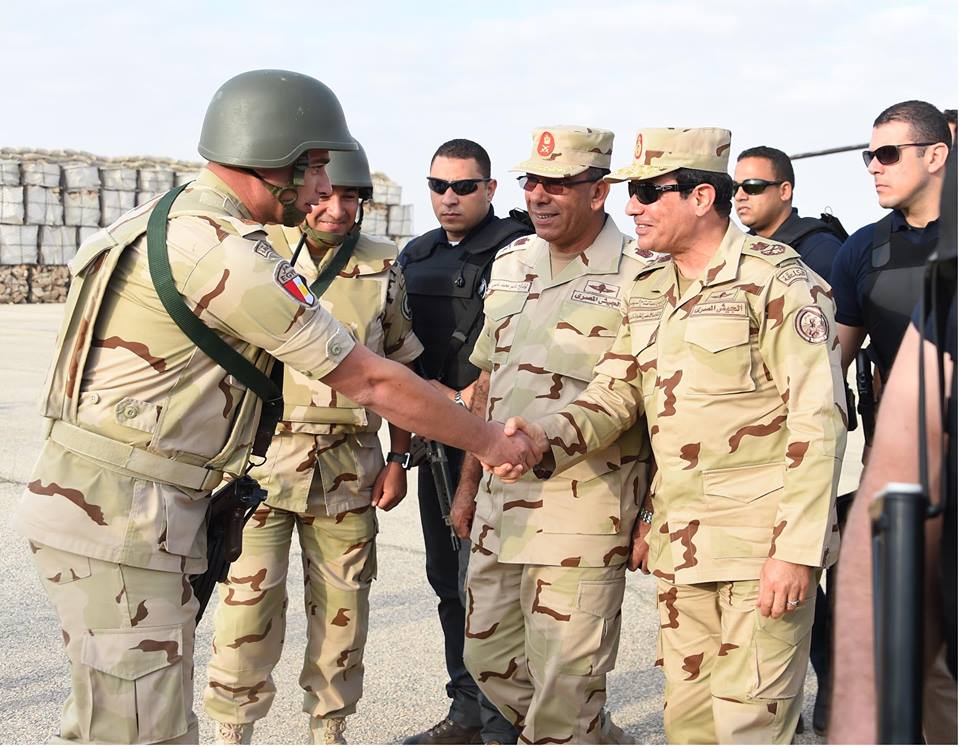 President Abdel Fattah al-Sisi visited North Sinai to inspect security forces on Saturday, July 4, 2015. Presidency handout
CAIRO, Jul 6 (Aswat Masriya) - The Egyptian army has killed 241 militants over the past five days, military spokesman Mohamed Samir announced on Monday.
All militants were killed in the period between July 1 and July 5, Samir said in a statement. These military operations started on the same day that deadly attacks were carried out against security forces in North Sinai's Sheikh Zuweid town.
"Large amounts of arms and ammunition" were seized during operations, Samir added, without providing numbers.
On Wednesday, the Sinai-based militant group Ansar Bayt al-Maqdis conducted a string of attacks on a number of security checkpoints and a police station, in a failed attempt to take over Sheikh Zuweid.
The attacks claimed the lives of 17 army personnel and injured 13, according to military figures. The military said it killed no less than 100 suspected militants on that day.

On Saturday, Egyptian President Abdel Fattah al-Sisi visited North Sinai donning military fatigues to inspect security forces.
The presidency said Sisi was keen to appear in a military uniform to salute each member of the armed forces and show solidarity with them.