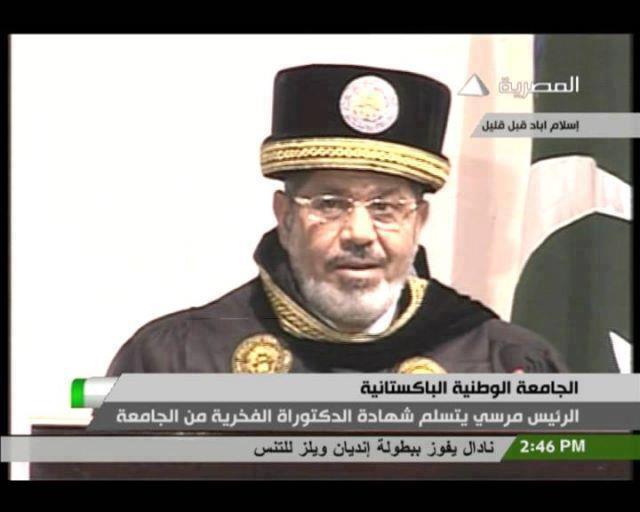 Egyptian President Mohamed Mursi receives an honorary PhD from from the University of Science and Technology in Pakistan - Snapshot
Egypt and Pakistan are pillars of the Islamic world that play a vital role for the Islamic nation and the region as a whole, Egyptian President Mohamed Mursi said on Monday.
Pakistan's National University for Science and Technology awarded Mursi an honorary doctorate in philosophy during his visit to Islamabad.
Mursi said that this visit is proof of the long historic ties between the two countries and marks a step in improving their ties.
"We are looking forward to making use of the opportunities available in different sectors in Pakistan," the Pakistani new agency reported Mursi as saying.
Egypt values the U.S. $500 million worth of investments which Pakistan gave to Egypt, the president added.
Pakistani President Asif Ali Zardari urged Mursi to take joint steps to support the Egyptian-Pakistani ties with a focus on trade and investment relations.
Pakistan's government and people value the relationship with their Egyptian brothers, a Pakistani news agency reported Zardari as saying.