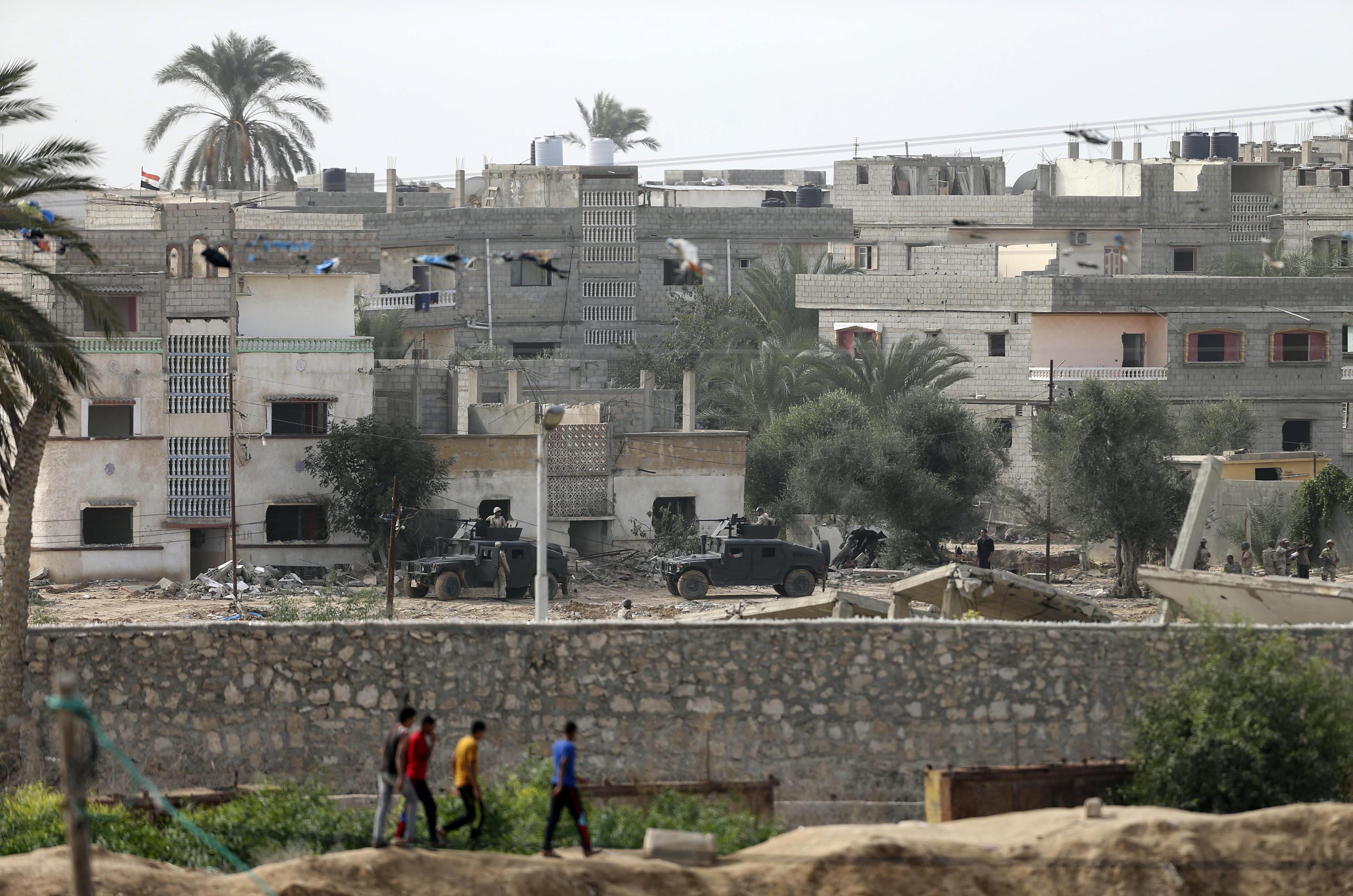 Egyptian soldiers keep guard during a military operation in the Egyptian city of Rafah, near the border with the southern Gaza Strip November 2, 2014. REUTERS/Ibraheem Abu Mustafa
CAIRO, Dec 4 (Aswat Masriya) – Residents of North Sinai's Sheikh Zuweid found the dead bodies of two men who were kidnapped by members of Ansar bayt al-Maqdis 10 days ago at one of the village's farms early Thursday, a police source said.
The two tribal youths were shot in the head and the back, and found in the village of "Abu Tawila", the source added to Aswat Masriya.
Incidents of finding dead bodies in North Sinai have become more frequent recently.
On Tuesday, residents of Sheikh Zuweid found the dead bodies of six citizens shot in the head.
Four other tribal youths have been kidnapped by unidentified militants six days ago.
The number of security personnel and civilians killed in armed attacks by militants in North Sinai has significantly surged recently.
Residents of the Sheikh Zuweid region found on August 20 the decapitated bodies of four civilians.
In a video allegedly released in August by the Sinai-based Ansar Bayt al-Maqdis, Egypt's most dangerous militant group, the group claimed responsibility for the beheading of the four civilians, accusing them of providing intelligence to Israel.
Similar executions of civilians have been repeatedly occurring since then, gripping the lives of dozens of residents.
Militants have stepped up attacks targeting security forces in Egypt, particularly in the Sinai Peninsula, since the army's ouster of Islamist President Mohamed Mursi in July 2013, which followed mass protests against his rule.
At least 30 military personnel were killed in a suicide blast which targeted a security checkpoint in Sinai's Sheikh Zuweid on October 24, in the worst militant attack since Mursi's ouster.
Ansar Bayt al-Maqdis, which has changed its name to Sinai Province since pledging allegiance to the leader of the Islamic State fighters in Iraq and Syria, also claimed responsibility for the attack in a video released on November 14.
The group claimed on Monday responsibility for the killing of an American petroleum engineer who was found dead in a car in the desert last August.