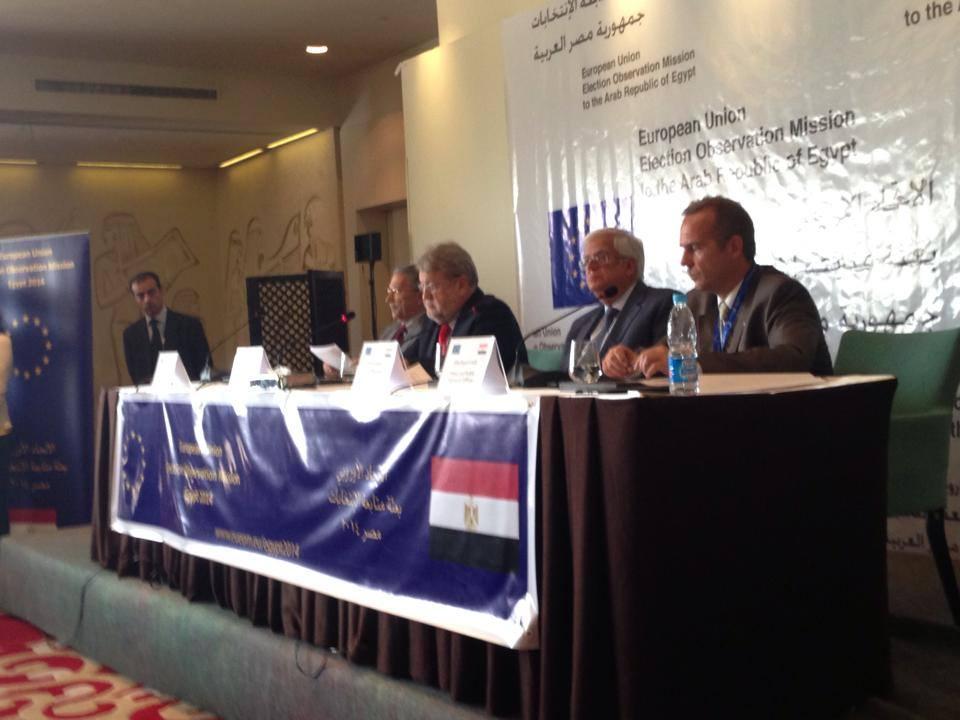 EU Elections Observing Mission announcing its preliminary findings of the Egyptians Presidential Elections in Cairo, Thursday 29, May 2014 - Photo from the EU official page
CAIRO, May 29 (Aswat Masriya) Egypt's electoral process were within the framework of law, Mario David, head of the EU's Elections Observing Misssion, announced in a televised press conference on Thursday.

"The turnout was 46 percent and the elections took place in a democratic, free and honest atmosphere," David said these were the preliminary findings of the monitoring commission.

Egyptians finished their voting on Wednesday in the three-day presidential election as polling stations closed at 9.00 p.m. (1800 GMT).

David said that extending the originally two-day election was not illegal but it was for necessity and it did not influence the voting process.

"The media treated both contenders fairly within the space granted to them," He added.

The preliminary results showed that former army chief Abedel Fattah al-Sisi won 93.3 percent of votes while his only opponent, the leftist politician Hamdeen Sabahi, won 3.0 percent of the votes.

The voter turnout in Egypt's presidential elections exceeded 48 percent, an official at the Presidential Elections Commission (PEC) told Aswat Masriya on Thursday.

David also commented that, "we noticed a good representation of women in the polls."