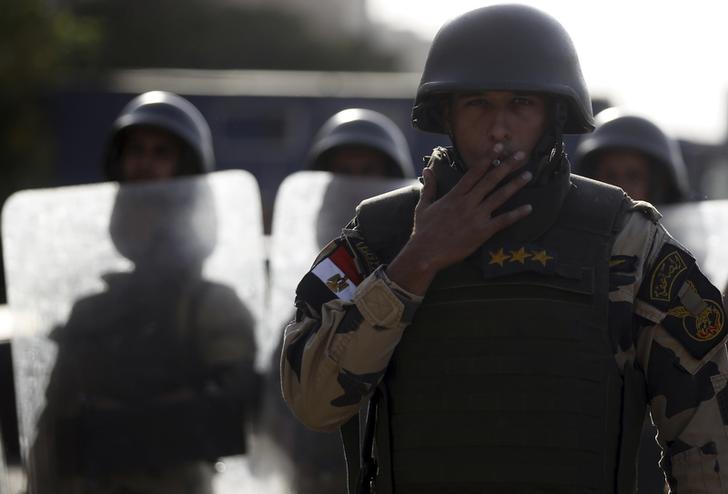 An Egyptian army officer smokes a cigarette while standing guard with armoured personnel carriers (APC) during a protest by members of the Muslim Brotherhood and supporters of ousted Egyptian President Mohamed Mursi, near Rabaa al-Adawiya square in Nasr City in Cairo district, October 4, 2013. REUTERS/Amr Abdallah Dalsh
CAIRO, July 6 (Aswat Masriya) Egyptian President Abdel Fattah al-Sisi issued a decree on Sunday to raise taxes on imported and locally produced alcohol and tobacco.
The increase, which ranges from 40 to 120 percent, will go into effect starting Monday.
The decision does not include water-pipe tobacco or non-alcoholic beer.
An official from the Finance Ministry told Aswat Masriya that the move will bring Egypt more than 3.5 billion Egyptian pounds per year.
The ousted Mohamed Mursi administration had proposed tax amendments in November the year before the last, but the decision was never put into effect.
The decree followed a decision by the Egyptian government to increase fuel and electricity prices to reduce the budget deficit and an economic burden that has increased in the past three years due to political turmoil.