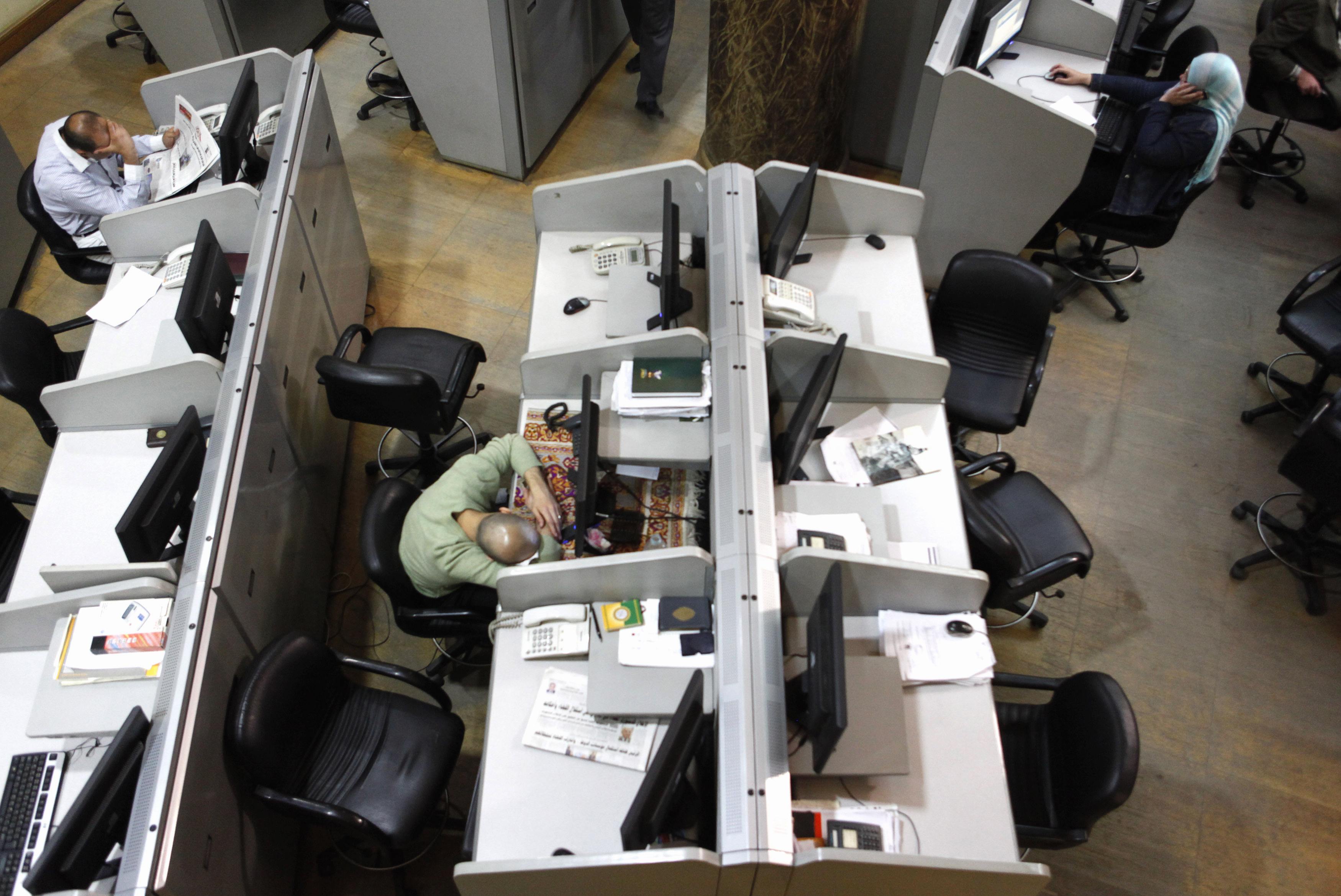 A man rests at his desk at the Egyptian stock market in Cairo, November 25, 2012. Egyptian share prices plunge, with the benchmark index losing nearly 10 percent in the first trading session since President Mohamed Mursi ignited a political crisis by expanding his powers. REUTERS/Asmaa Waguih
CAIRO, Dec.18 (Aswat Masriya) – Egypt's stock market indices hiked during last week's trading, where the main index EGX30 rose by 0.48 percent, to reach 6,670 points.
The bourse's losses amounted to EGP 54 million where the capital market shares of listed companies reached EGP 421.597 billion compared to EGP 421.651 billion during the week before, according Egypt's stock exchange weekly report cited by state-run MENA.
The report showed an increase in the main and secondary market indicators where small and medium enterprises EGX70 also edged up by 0.74 percent, to reach 364 points.
The broader EGX100 climbed by 0.22% to reach 761 points, while EGX20 index rose by 2.2% percent reaching 6,688 points.
The trading volume reached EGP 3.2 billion through trading of 1.307 billion securities on 91,000 deal compared to a trading volume of EGP 3.2 billion through trading of 1.211 billion securities on 99,000 deal the week before, said the report.
The report also pointed out that Egyptian investors trading accounted for 78.70 percent of the total market transactions, while Non-Arab foreign investors accounted for 14.13 percent and Arab investors accounted for 7.16 percent, excluding deals.
It also said that Non-Arab foreign investors recorded net purchases worth EGP 65.35 million, while the Arabs recorded net sales of EGP 238.27 million, excluding deals.