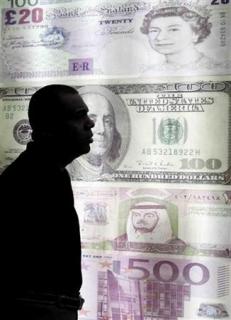 A man walks past a currency exchange office in Cairo - Reuters/Mohamed AbdelGhany
CAIRO, July 20 (Reuters) - Yields on Egyptian treasury bills jumped more than 1 percent on Sunday after the central bank unexpectedly raised interest rates last week in an attempt to hold down inflation.
The average yield on the 91-day T-bills climbed to 11.826 percent, the highest since last July after Islamist President Mohamed Mursi was ousted by the army following mass protests. At last week's issue the average yield was 10.781 percent.
The average yield on 266-day bills was 12.246 percent, the central bank said, up sharply from last week's 11.119 percent and the highest since September.
Egypt's central bank raised benchmark interest rates on Thursday in an unexpected move seen as an attempt to hold down inflation less than two weeks after the government slashed subsidies on fuel and electricity.
The subsidies cuts are expected to push inflation up into double digits in July.
"The 100 basis point rate hike (...) was a strong move and largely unexpected by the market. It also sent a signal to the market that inflation will pose a threat in the coming months which may call for further hikes," said one Cairo-based fixed-income trader.
"The aggressive move also led several market participants to stay on the sidelines in today's auctions until they get some clarity as to the future path of interest rates, resulting in higher yields due to the lower demand," he added.
The central bank sold 2.5 billion Egyptian pounds' ($349.65 million) worth of the 91-day T-bills and 3 billion of the 266-day bills, the full amounts offered.
($1 = 7.1500 Egyptian Pounds) (Reporting By Shadia Nasralla; Editing by Raissa Kasolowsky)