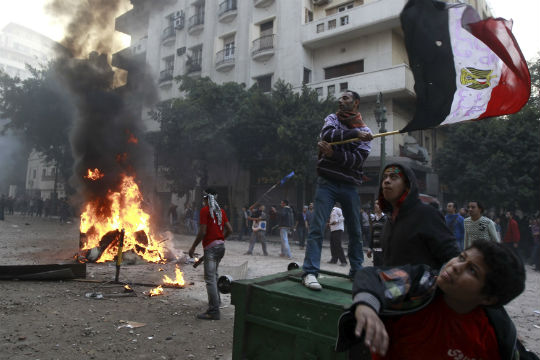 Clashes in front of the cabinet of ministers - Amr Dalsh/Reuters
Eighteen people were arrested on Wednesday morning in Simon Bolivar Square near Tahrir in clashes between protesters and police forces, reported the state's news agency.

Confrontations continued early on Wednesday where police forces used teargas in response to the stones and Molotov cocktails being hurled at them by protesters.

Al-Jazeera aired footage of tens of protesters gathered near Tahrir Square, the U.S. embassy and Omar Makram Mosque amid heavy smoke due to the excessive use of teargas.

Employees in a nearby building were forced to depart the area due to the smell of teargas, reported the Middle East News Agency.

Scuffles erupted last week following a demonstration to commemorate deadly clashes that occurred last year resulting in the death of over 40 people.

Tensions escalated on Thursday when President Mohamed Mursi issued a constitutional decree expanding his powers.

Liberal, leftist and socialist forces organized nationwide demonstrations on Tuesday to express their outrage against the decree that they considered a step towards a new autocratic era.