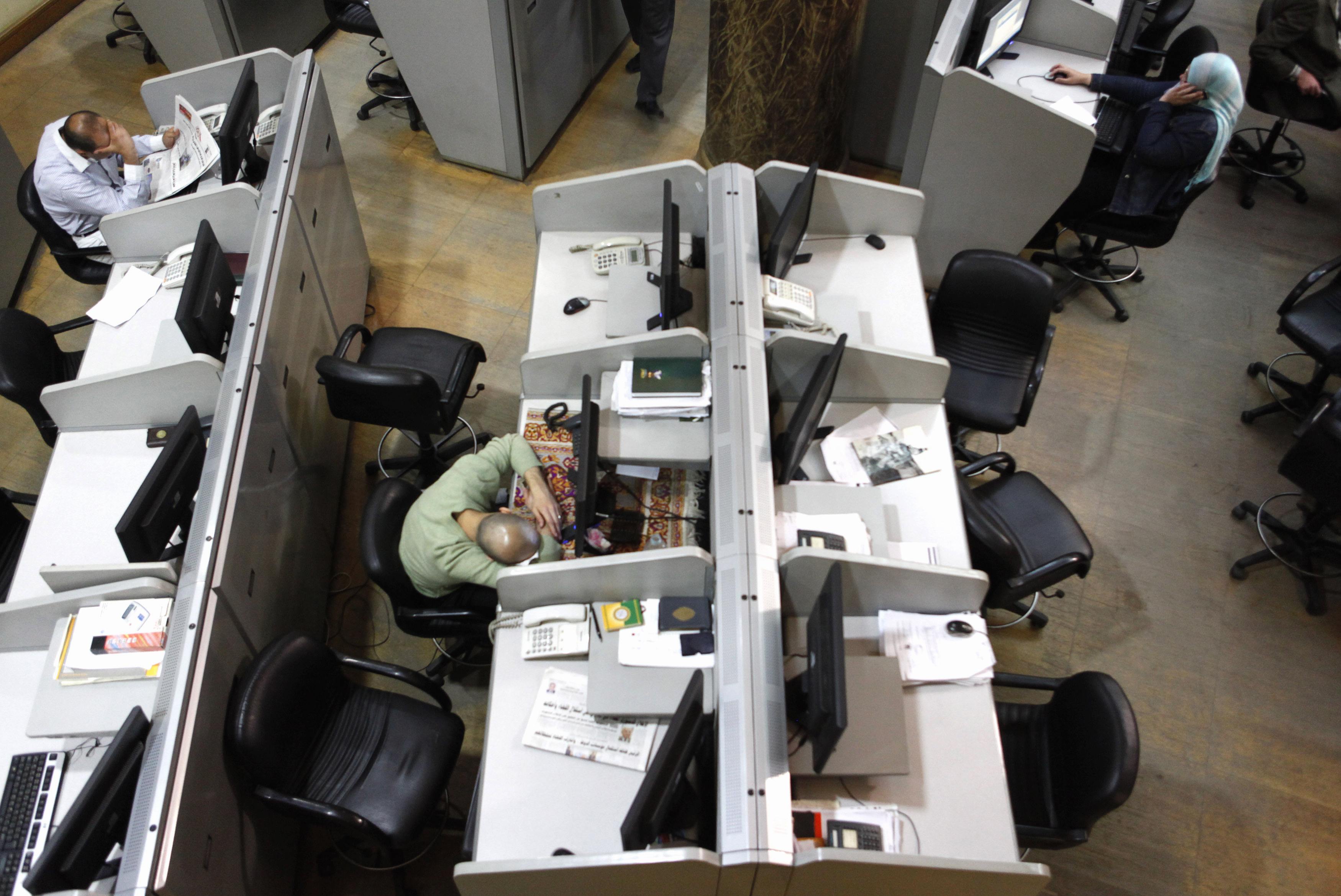 A man rests at his desk at the Egyptian stock market in Cairo, November 25, 2012. Egyptian share prices plunge, with the benchmark index losing nearly 10 percent in the first trading session since President Mohamed Mursi ignited a political crisis by expanding his powers. REUTERS/Asmaa Waguih
Egypt's stock index fell on Tuesday amid weak transactions after credit rating-agency Standard & Poor's (S&P) downgraded the country's credit rating and imposed restrictions on foreign currency exchange.
S&P cut Egypt's long-term credit rating to 'B-' from 'B' on Monday, saying the country might be exposed to further downgrading if worsening political unrest undermines efforts to support Economy and the budget.
Market shares fell dramatically on Sunday following the approval of the new controversial constitution as more political turmoil was expected to erupt.
The benchmark EGX30 main index fell by 0.86 percent, recording 5326.4 points and the secondary index fell by 0.5 percent, recording 473.62 points, whereas the total value of transactions reached 18.19 million pounds.
Resort shares dropped by 1.9 percent, CIB fell by 1.8 percent, Sodic 1.7 percent, Pioneers fell by 2.1 percent.
Palm Hills shares slipped by 1.65 percent, Telecom Egypt down by 1.2 percent, Hermes reduced by 0.99 percent, Ezz Steel fell by 1.7 percent and Citadel dropped by 0.8 percent.
Orascom Telecom and Orascom Construction declined by 0.8 percent and 0.7 percent respectively while Talaat Mostafa fell by 0.9 percent.

Egypt's Central Bank sent a letter to all banks instructing them to prevent currency exchange of more than $10,000 at once for any client, a source told Aswat Masriya.
The Central Bank said that it will take all necessary measures to guarantee all deposits in all operating banks in Egypt.