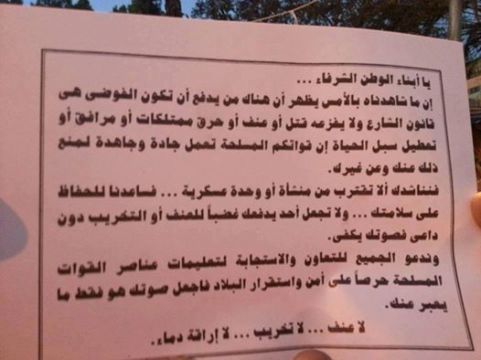 Army flyer thrown at protesters on Monday, July 29, 2013.
Military aircrafts dropped flyers over supporters of deposed President Mohamed Mursi in their sit-in near Rabaa al-Adawiya mosque on Monday, urging them not to approach military facilities and units.

"The recent events reveal that the country is being pushed into chaos without regard to murder, violence or halting the means to normal living, which is a matter the army is trying to prevent," said the flyer.

The army appealed to protesters not to be pushed into violence or vandalism and help the army maintain their security.

The army's flyer called on everyone to cooperate and respond to its instructions for the stability of the country.

Muslim Brotherhood Spokesman Murad Ali has said that Mursi loyalists had started marching to the military intelligence headquarters in the early hours of Monday.
Supporters of Mursi have rallied for roughly a month to demand that their democratically elected president be reinstated.

Egypt's army ousted the Islamist president on July 3 following massive demonstrations.