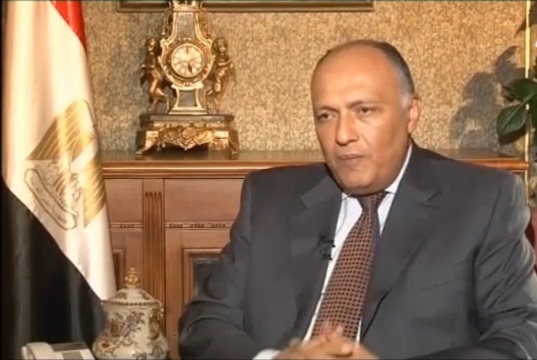 Egyptian Foreign Minister Sameh Shukri.
CAIRO, Dec 10 (Aswat Masriya) - Egypt gives high priority to the goal of promoting and protecting human rights on the national level, Foreign Minister Sameh Shukri said on Wednesday.

Shukri added that this goal is a cornerstone of Egypt's foreign policy due to its being a major factor in ending conflicts, forging stability, achieving freedom, justice, and peace across the world, state-run MENA reported.

He reiterated Egypt's commitment to its responsibilities towards human rights issues around the world, particulalry those of the Arab, African, Islamic and developing countries, while confronting attempts to exploit human rights principles to target the sovereignty and security of states.
An Egyptian rights centre announced on Tuesday the relocation of its programmes outside Egypt, citing threats to human rights and civil society organisations.
The Cairo Institute for Human Rights Studies (CIHRS) described the "expiration of the deadline set by the Ministry of Social Solidarity for 'unregistered entities' to register under a draconian associations law, ... and the deterioration of human rights to a level unprecedented in Egypt's modern history" as the main trigger for relocation.

December 10 marks Human Rights Day, chosen by the United Nations General Assembly in 1950 to "bring to the attention 'of the peoples of the world' the Universal Declaration of Human Rights as the common standard of achievement for all peoples and all nations".
Shukri praised the Day as representing one of the important achievements by the international community, which is the adoption of the Universal Declaration of Human Rights, springing from the simple principle of human beings born free, and equal in dignity, rights, and freedoms.