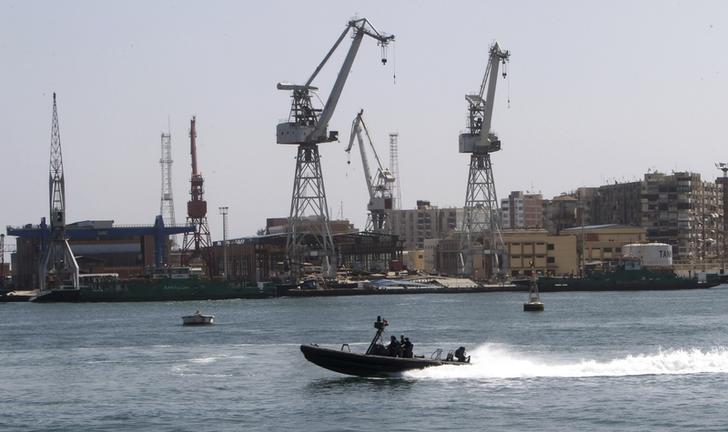 Naval units secure the area after protesters burned tyres in Port Said city, 170 km (106 miles) northeast of Cairo, March 9, 2013. REUTERS/Mohamed Abd El Ghany
By Stephen Kalin and Michael Georgy
CAIRO, Dec 10 (Reuters) - The consultant on a project to develop the Suez Canal says cumbersome Egyptian government bureaucracy could hamper its chances of success.
Yehia Zaki, director of Egypt operations at global engineering firm Dar Al-Handasah, said he had urged the government to introduce bureaucratic and legal reforms.
The Suez project, announced by President Abdel Fattah al-Sisi in August, aims to turn the canal area into an international industrial and logistics hub. In a separate scheme, the army began digging a second canal in August to allow two-way traffic of larger ships.
"If there is a chance there, you need to provide the proper enabling environment for it. You cannot have it with the current bureaucracy or the current legislation or with very poor infrastructure connections," Zaki told Reuters in an interview.
The Suez Canal is the fastest shipping route between Europe and Asia and brings in around $5 billion of revenues per year, a vital source of hard currency for Egypt, which has suffered a slump in tourism and foreign investment since a 2011 uprising.
A vast network of ministries, agencies and authorities has stifled business in Egypt for decades. Sisi launched an economic reform drive last summer with new taxes and cuts to costly energy subsidies.
Though Sisi's ministers have been more forthcoming about the challenges facing Egypt than previous ones, it is unclear how he will ease entrenched bureaucracy.
Zaki seemed confident the current administration was more serious about making mega-projects work.
"It varies depending on which ministry, which agency, but the aggregate of it for me as a private sector consultant is positive, is better than other interactions with Egyptian governments," he said.
The consortium led by Dar al-Handasah is expected to complete a master plan for the hub by March, including investment opportunities in industry, logistics and maritime services.
"The vision is to turn this area into something totally different and capitalise on its location and what it can offer and added value," said Zaki.
He declined to provide an overall investment figure, saying the project's scope was still not fully defined.
"We could be looking into 250-300 square kilometres of area or double that size, so it can vary drastically," Zaki said.