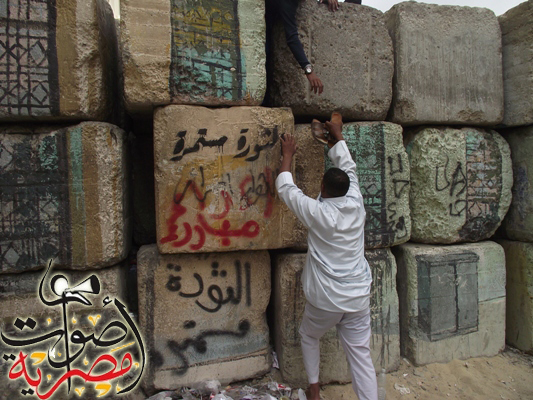 Wall blocking Sheikh Rihan Street next to the Interior Ministry in Cairo, October 2, 2012 / Ahmed Hamed, Aswat Masriya
Military engineers put up a concrete wall in Cairo's Qasr al-Aini Street on Sunday to prevent confrontations from reaching state installments.

Scuffles between security forces and protesters picked up on Sunday morning in Qasr al-Aini Street from Tahrir Square.

Protesters gathered near the American University's campus hurling stones at security forces who responded with teargas bombs.

"Down with the regime", the protesters were heard chanting on Sunday - a phrase that was popular during last year's uprising that ousted Hosni Mubarak.

They also chanted against the Muslim Brotherhood's supreme guide, who is believed by many as the one who pulls the strings instead of Egypt's current president, reported the Middle East News Agency.

Clashes erupted on Monday evening following a demonstration to commemorate last November's "Mohamed Mahmoud events" where over 40 people were killed.

Four large vehicles were seen carrying the concrete blocks on Sunday, reported the state agency.

Last week, Molotov cocktails hurled by protesters reached the Shura Council and Barclays Bank.

Security forces formed two bases close to where the wall was being built and enhanced their use of teargas to prevent protesters from delaying the process.