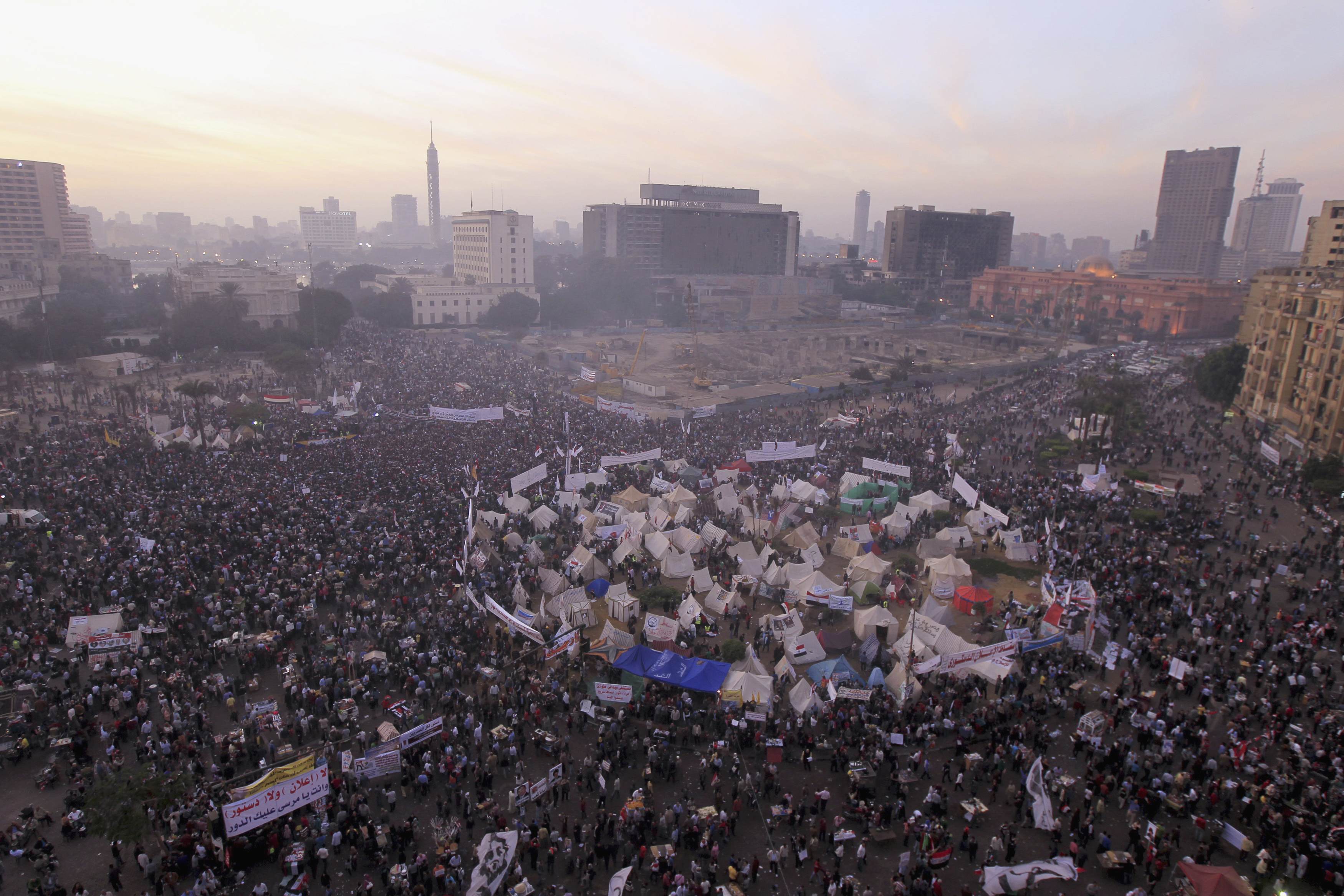 General view of protesters chanting anti-government slogans in Tahrir Square in Cairo November 30, 2012 - REUTERS/Mohamed Abd El Ghany
Hundreds of protesters have been arriving in Tahrir Square since early morning in preparation for mass rallies against President Morsi's constitutional declaration and the draft constitution.
Seventeen marches are expected to begin after Friday prayers from venues around Cairo including Giza, Tahrir Square, Abbaseya and a number of mosques. They will converge on the presidential palace in Heliopolis.
The protest has been variously termed 'Friday to oust the Brotherhood's militias', 'Red Card Friday', and 'Ultimatum Friday'. Around twenty-one groups have announced their participation in the protests.
Hundreds of protesters have been holding a sit-in in Tahrir Square since 22 November when President Morsi's constitutional declaration rendered his decisions above judicial challenge and made the Islamist-dominated Shura Council and Constituent Assembly immune from dissolution by court order.
The number of protesters in the square increased last Saturday following Morsi's acceptance of the draft constitution and his announcement that it would be put to a referendum on 15 December.
Protesters have demanded the draft constitution be rewritten and the referendum be cancelled. Expatriates will place their votes in the referendum on 8 December.
Dozens of protesters marched around Tahrir Square early Friday chanting, "The people want the downfall of the Brotherhood and Morsi" and "Leave, leave Morsi and Badie," referring to the Muslim Brotherhood's Supreme Guide Mohamed Badie.
Friday's marches are being held in response to clashes outside the presidential palace.
Violence started when pro-Morsi supporters attacked a peaceful sit-in by opposition activists outside the palace on Wednesday, resulting in seven deaths and over 700 injuries.
Protests were reinvigorated by Morsi's speech late Thursday when he said the referendum would go ahead as planned on 15 December and called for a national dialogue.
He claimed the violence outside the palace was stirred up by "paid thugs," which further angered opposition activists who say Morsi supporters were responsible.