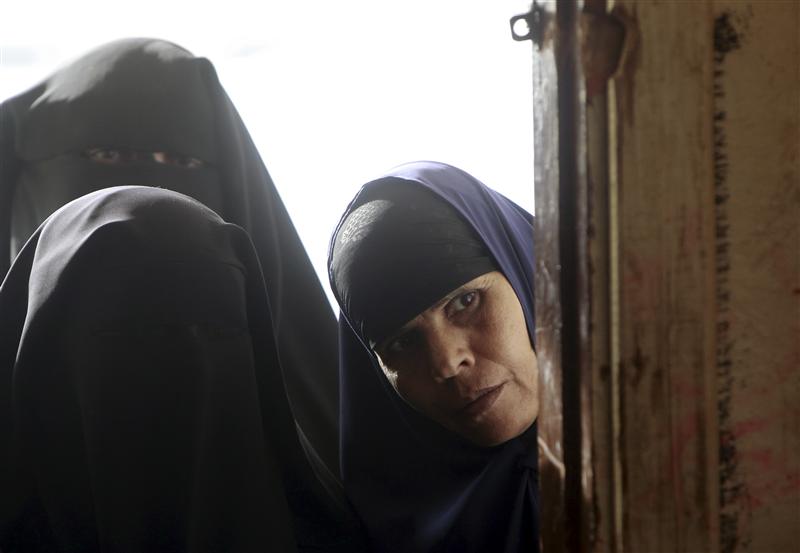 Veiled women standing at one polling centre in Beheira - Amr Dalsh/REUTERS
CAIRO, Sept 30 (Aswat Masriya) - Cairo University, Egypt's oldest higher education institution, issued a ban that would bar lecturers or teaching assistants wearing the niqab (full face veil) from teaching, the university announced.
The niqab is viewed by ultra-conservative Muslims as a sign of modesty. The vast majority of women in Egypt, however, do not wear it.
"It is not permitted for female faculty ... in all colleges and institutes, to give lectures, tutorials, attend labs or deliver scientific training while wearing the niqab," stipulated the university administration on Tuesday.
Cairo University President Gaber Nassar said the decision was taken for the benefit of the educational process and public interest.
Ahmed Abuol Magd, director of "Our Right" human rights foundation, believes the decision has a political dimension. He said the university's "compass is adjusted based on who is in power in the country."
Aboul Magd wishes that as an academic institution, the university would adopt principles and fixed norms, that do not change when the country witnesses power shifts.
He personally believes that the way a person dresses is a matter of freedom, even though he acknowledges that communication is affected when there are no facial expressions or body language.
Meanwhile, Mona Abdel Radi, a co-founder of the National Front for Egypt's Women, applauded the decision. She said similar decisions should be adopted in schools and public institutions.
She said wearing the niqab is a matter of personal freedom and no one should be asked to take it off. But people who deal directly with the public cannot be wearing the niqab, she added.