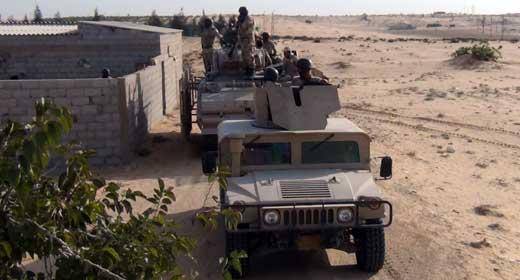 Military vehicles are seen during an army crackdown in North Sinai on July 25, 2014 - photo from Facebook page of an army spokesman
CAIRO, Oct 10 (Aswat Masriya) - Egypt's army has killed 21 "terrorists" and arrested others others in a security campaign across Egypt, army spokesman Brigadier-General Mohamed Samir said Friday.
The army has raided "terrorist" hotbeds in the provinces of North Sinai, Ismailia, Daqahleyya, and Port Said in the week of October 3 to October 10, killing 21 "terrorists" and arresting others, Samir added in a statement on his official Facebook page.
"Highly dangerous terrorists" Hamed Abu Freig and Youssef Abu Eita were among 38 "criminals" arrested.
Six vehicles and 13 motorbikes used to launch "terrorist" attacks against security personnel were also destroyed, Samir said, adding that 11 tunnels were demolished in North Sinai.
Egypt's security forces have intensified their security measures in North Sinai in reaction to repeated militant attacks that target army and police officials, which rose significantly since the military ouster of former President Mohamed Mursi last year.
A fact-sheet prepared by Egypt's ministry of foreign affairs put the death toll for terrorism acts which took place since January 2011 and until April 2014 at 971, including 664 security personnel.