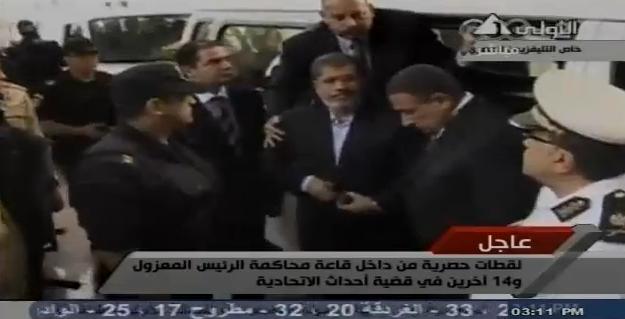 The Egyptian television aired footage of the trial of deposed President Mohamed Mursi on Monday.
CAIRO, March 6 (Aswat Masriya) An Egyptian court has adjourned the trial of ousted President Mohamed Mursi and other Muslim Brotherhood leaders, over violent clashes by the presidential palace, to March 15, to respond to Essam al-Erian's request to change the head judge whom he has accused of conflict of interest.
Erian, a senior member of the Brotherhood, has requested that Justice Ahmed Aboul Fotouh be changed because he once expressed his personal views on the trial and the group in a television interview.
Mursi and his top aides are accused of inciting the killing of peaceful protesters in front of the Ittihadiya presidential palace in December 2012 in light of protests against a constitutional decree issued by the Islamist president in November.
Mursi and the others are also accused of other crimes, including spying in collaboration with foreign bodies.