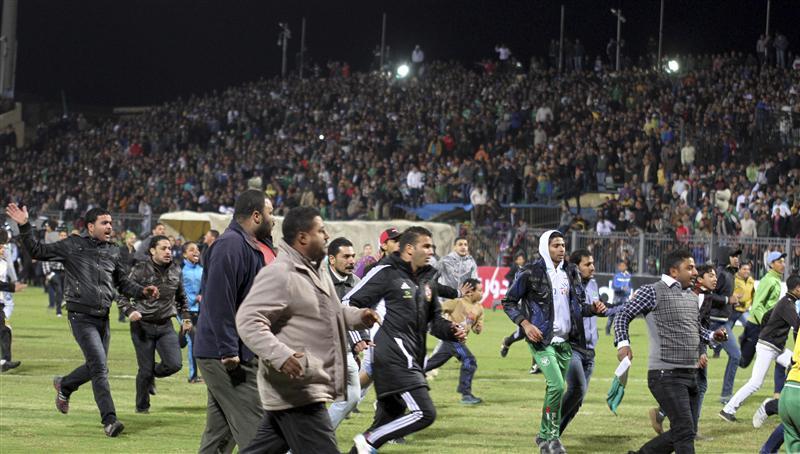 Clashes at Port Said stadium on Wednesday - photo from Reuters
Port Said Criminal Court on Saturday sentenced to death 21 defendants accused of involvement in killing 74 people during riots that followed a football match in Port Said last February.
The court said that a list of the 21 names will be "referred to the Mufti", a legal phrase that denotes a death sentence after taking the views of the Mufti. The Mufti usually endorses court sentences.
The court set March 9 as a date to announce the verdicts on all other defendants.
The 21 defendants sentenced to death are: Mohamed al-Danaf, Outa al-Shaytan, Mohamed al-Sayed Mostafa, al-Sayed Mahmoud Khalaf, Mohamed Adel Shehata, Ahmed Fathi Ali, Hisham al-Badri, Mahmoud Mohamed al-Boghdadi, Fouad al-Tabei, Mohamed Shabaan Hassanein, Nasser Samir, Hassan Mohamed, Mohamed Hussein, Ahmed Reda Mohamed, Ahmed Mohamed al-Nagdi, Tarek Asran, Abdel Azim Gharib, Mohsen Mohamed, Wael Youssef Abdel Kader, Mohamed Desouki, and Mahmoud Ali Abdel Rahman.