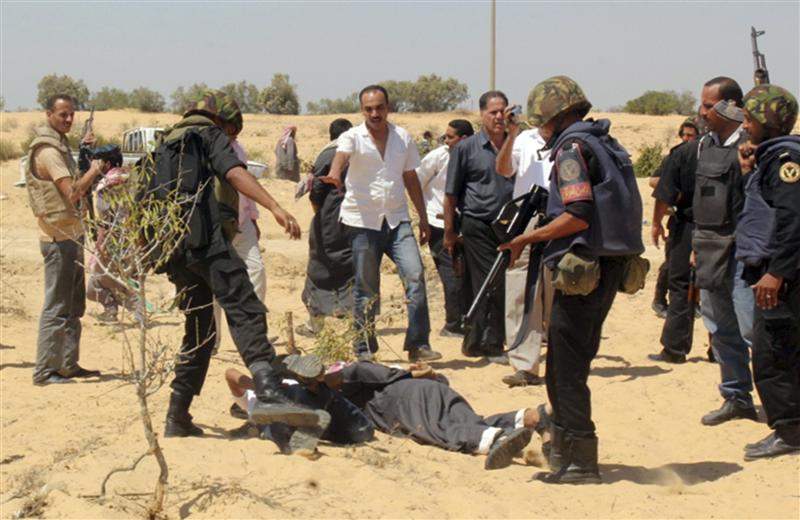 The Egyptian Army Spokesman Ahmed Mohamed Aly said that the armed forces arrested eleven terrorists in North Sinai on Tuesday, August 20, 2013.
By Youssri Mohammed
ISMAILIA, Egypt, Sept 10 (Reuters) - Residents in Egypt's Sinai Peninsula said on Wednesday they found a beheaded corpse bearing a note signed by an Islamist militant group linked to the Syria and Iraq-based Islamic State, accusing the victim of being an Israeli spy.
The beheading is the eighth claimed by the group in Sinai in under a month in a surge of brutal killings seemingly inspired by Islamic State, which has been internationally condemned for its atrocities and has been the target of U.S. air strikes.
Residents from a village south of the town of Sheikh Zuweid in northern Sinai told Reuters by phone that the decapitated body bore a note signed by Ansar Bayt al-Maqdis, saying he was an agent for Israeli spy agency Mossad.
"This is the fate of all who prove to be traitors to their homeland," the group said in the note, according to the villagers.
A senior Ansar commander told Reuters last week that Islamic State, an al Qaeda offshoot that controls large swathes of Syria and Iraq, had been advising the Sinai-based group on how to operate more effectively.
Ansar Bayt al-Maqdis, the most powerful and ruthless militant group in Sinai, said last month it had beheaded four Egyptians for providing Israel with intelligence for an airstrike that killed three of its fighters.
The group posted a video on Twitter showing the beheadings which resembled images posted on the Internet by Islamic State.
Islamic State has caused international alarm over its rapid expansion and extreme violence, including the beheadings of two U.S. journalists and the killing and burying alive of hundreds of Iraqis from the Yazidi minority.
Egyptian intelligence officials have said Islamic State is also influencing Egyptian militants based just over the border with Libya.
DAKAHLIA ATTACK
Hardline Islamist militants have stepped up attacks on police and soldiers since the army toppled President Mohamed Mursi of the Muslim Brotherhood last year after mass protests against his rule.
The government accuses the Muslim Brotherhood of turning to violence following Mursi's ousting, but the movement has publicly condemned violent extremism in the past and says it remains committed to peaceful means of bringing down the government.
But with hundreds of Brotherhood members killed and thousands arrested in a crackdown now entering its second year, older members fear that the youth could turn to extremist groups that seem more effective than the silenced Brotherhood.
In the north eastern Dakahlia province, a security officer's son was killed in an apparent attempt on the officer's life, the state news agency reported on Wednesday.
Mahmoud Saad and his son were driving in the provincial capital of Mansoura when an unknown gunman opened fire on their vehicle, MENA reported.
Militant attacks initially targeted security forces in Sinai -- a remote but strategic part of Egypt located between Israel, the Gaza Strip and the Suez Canal -- but they have since extended their reach, with bombings and shootings on the mainland.
The violence has hurt tourism, a pillar of Egypt's economy. (Writing by Shadi Bushra; Editing by Raissa Kasolowsky)