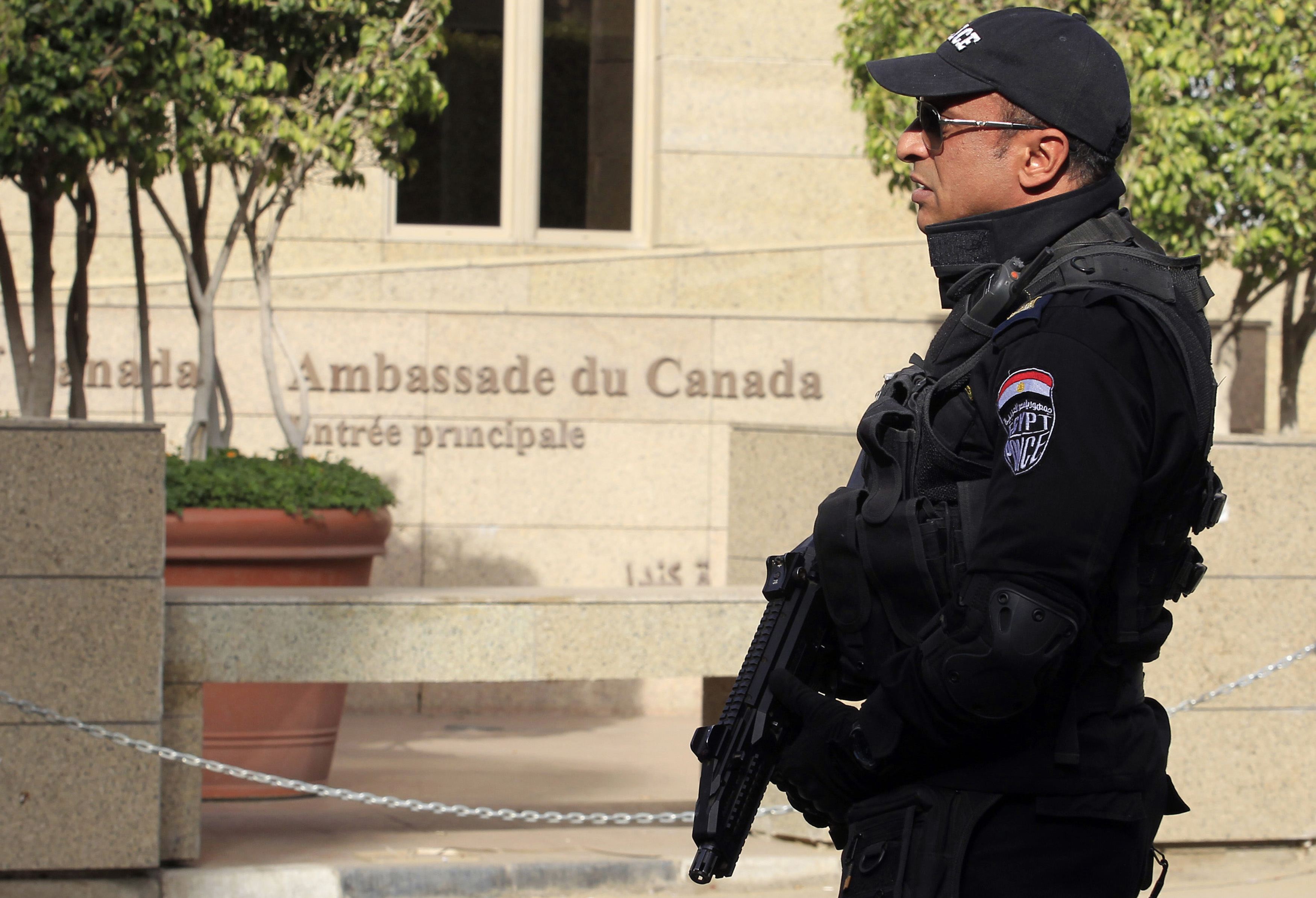 An armed police officer is deployed in front of the Canadian embassy in Cairo December 9, 2014. REUTERS /Mohamed Abd El Ghany
CAIRO, Dec 23 (Aswat Masriya) – Egypt's top prosecutor referred a man to the criminal court on Tuesday for "threatening employees at embassies and consulates" in the country, two weeks after the closure of two embassies for security reasons.
Prosecutor General Hisham Barakat said in a statement that the defendant was reported by a cultural centre attached to a foreign embassy in Cairo.
"He threatened a number of foreign embassies with terrorist elements' intention to target foreign consuls and diplomats," the statement read.
It added that the actions of the unnamed defendant "disturbed the public security, scared diplomats, and negatively affected Egypt's relations with other states, which in turn threatened Egypt's national security."
The British Embassy in Cairo had suspended on December 7 public services due to "security considerations", according to an embassy spokesperson.
The Canadian Embassy in Cairo closely followed in its footsteps, announcing on December 8 the suspension of its services "until further notice", citing "unsettled security conditions".

The British embassy resumed its activities last Tuesday, "after security issues related to the building were resolved in cooperation with the Egyptian government," it said in a statement.
The Canadian embassy remains closed "on a temporary basis", yet it announced on its official website that its visa services continue to be available.
Both the Canadian and the British embassies are located in Garden City, a few metres away from one another.
The embassies' closure threatened to negatively affect Egypt's shaky tourism industry and therefore impact its recovering economy.
A security source, who spoke on condition of anonymity, told Reuters on December 7 that a recently-detained suspected militant had confessed to Egyptian authorities "plans to target foreign embassies."
In a travel advice to Egypt posted on December 6, the Australian Department of Foreign Affairs advised its citizens to "reconsider [their] need to travel" to Egypt overall, while advising against travel to North Sinai.
"Reports of early December 2014 indicate that terrorists may be planning attacks against tourist sites, government ministries and embassies in Cairo," the travel advice read.
Militants have stepped up attacks targeting security forces in Egypt, particularly in the Sinai Peninsula, since the army's ouster of Islamist President Mohamed Mursi in July 2013, which followed mass protests against his rule.
At least 30 military personnel were killed in a suicide blast which targeted a security checkpoint in Sinai's Sheikh Zuweid on October 24, in the worst militant attack since Mursi's ouster.
Ansar Bayt al-Maqdis, which has changed its name to Sinai Province since pledging allegiance to the leader of the Islamic State fighters in Iraq and Syria, claimed responsibility for the attack in a video released on November 14.
The militant group claimed on December 1 responsibility for the killing of an American petroleum engineer who was found dead in a car in the desert last August.