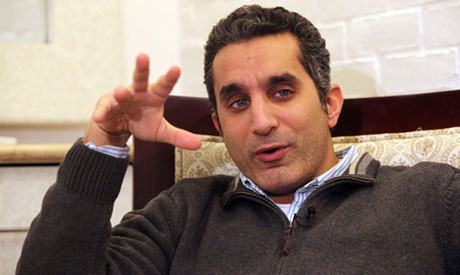 Egyptian political satirist and host of weekly Television show Bassem Youssef - Reuters
CAIRO, Feb 1 (Aswat Masriya) - Prominent satirist Bassem Youssef will return to television on MBC channel with his "al-Bernameg" show on Friday 7 February, al-Arabiya news website reported MBC channel as saying.
Bassem's return comes after more than a three-month hiatus since the Egyptian CBC channel stopped airing the programme.
"We gladly confirm news of Bassem and his crew joining MBC Masr channel," al-Arabiya, established by the MBC group, reported the group's spokesman as saying.
The first episode of al-Bernameg will air on Friday at 7 pm, spokesman Mazen Hayek said.
Youssef is famed for his sarcasm at ousted President Mohamed Mursi in al-Bernameg, which was very popular during Mursi's one-year rule.
Last October, CBC stopped airing the programme for disputes over its editorial policies.