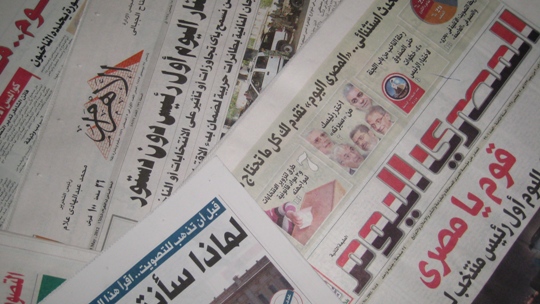 Egyptian newspapers on Wednesday May 23 morning - Aswat Masriya
CAIRO, June 28 (Aswat Masriya) - Egypt's Supreme Press Council appointed on Saturday new editors in chief for state-owned newspapers and magazines.
The appointments are based on a law former President Adli Mansour approved last January.
The state-run agency MENA said that its new editor in chief is Alaa Heidar.
As for al-Ahram, the council appointed Khaled Tawheed for al-Ahram al-Riyadi, Amal Fawzi for Nesf al-Donia magazine, Laila al-Raa'i for Alaa al-Din magazine, Emad Ghoneim for al-Ahram al-Iktisadi, Alaa Thabet for al-Ahram al-Masaa'i, Galal Nassar for al-Ahram Weekly, and Fouad Samir for al-Ahram Hebdo.