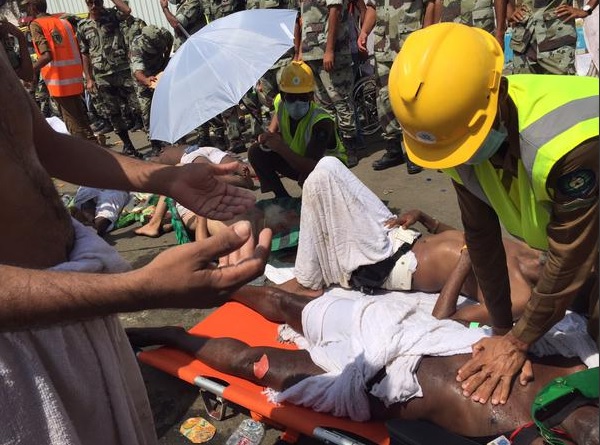 Hundreds died in a stampede in the tent city of Mena as Muslims preformed pilgrimage, on Sept. 24, 2015. Handout from the Saudi civil defence Twitter account
CAIRO, Oct 12 (Aswat Masriya) - Six Egyptian pilgrims who were believed to be missing in last month's stampede in Saudi Arabia have returned to Egypt, while Egypt's death climbed on Monday to 181 rising from 177 on Sunday.
Egypt's Consul General in Jeddah, Adel al-Alfi said the number of missing Egyptians dropped to 53, in a statement circulated by the Foreign Ministry. On Oct. 1, as many as 120 Egyptians were reported missing.
Meanwhile the number of injured Egyptians remained at 10, unchanged from Sunday.
A stampede in the Saudi tent city of Mina on Sept 24 left hundreds dead after pilgrims either suffocated or were trampled while preforming Haj, one of the five pillars of Islam.
Saudi Arabia said 769 died in the incident, but the Associated Press said on October 9 that the death toll is at least 1,453, according to its tally.
Since the incident, pictures of dozens of Egyptians who went to Saudi for pilgrimage are being circulated on social media by family members who have lost contact with them. Many of them are senior citizens.
Last week, three Egyptian hospitals started collecting the DNA samples of the relatives of missing people to compare them with yet unidentified bodies in Saudi hospitals.
The Egyptian consulate in Jeddah has uploaded photos of unidentified persons killed and injured during the stampede to its official Facebook page and asked relatives of missing persons to identify them.