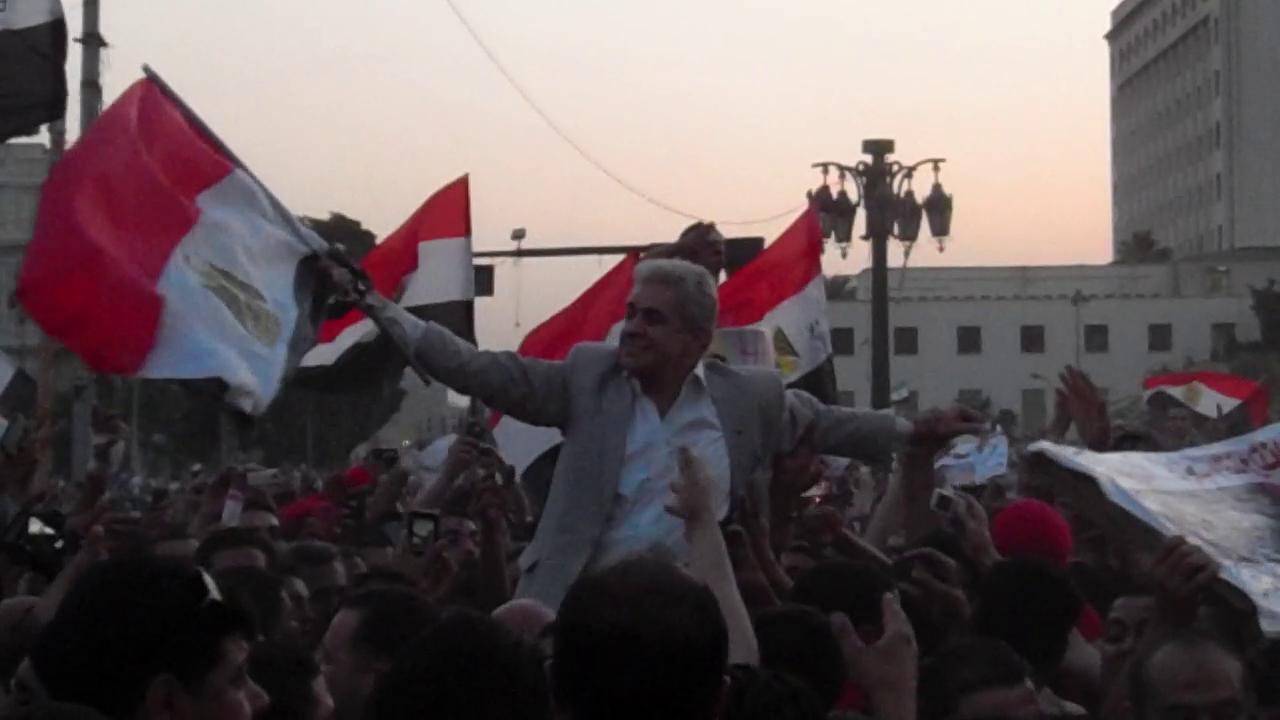 Hamdeen Sabahi in Tahrir square, 2012 - Aswat Masriya
Ex-presidential candidate Hamdeen Sabahi announced on Friday the birth of the Popular Current during a rally held in front of Abdeen presidential palace.
The new current will represent the hopes of the Egyptian and Arab people in freedom and social justice, Sabahi stated.
The Egyptian people are "simple yet they have big dreams. We will realize our dreams in an alliance grouping all spectra of people, Muslims and Copts, from Upper to Lower Egypt and from Nubia to Sinai", al-Watan newspaper quoted Sabahi as saying during the rally held in front of Abdeen Palace in downtown Cairo to officially launch the current.
"We made a mistake by not uniting before. If we had united, Egypt would now be ruled by the one who belongs to the revolution and the poor the most," Sabahi said.
He stated that Egypt is too big to be ruled by a particular faction or group.
The crowds chanted "Nasser.. Nasser" in reference to Sabahi's Nasserite inclination.
Abdel Hakim Abdel Nasser, son of the late president Gamal Abdel Nasser,and founding member of the Egyptian Socialist Party Karima al-Hefnawi were among the attendees of the public conference. A large number of activists and politicians attended the rally as well.
Sabahi's supporters organized a march on Friday evening that headed from Mohamed Mahmoud Street to Abdeen Square where the rally was held, al-Ahram newspaper reported.
The day to officially announce the formation of the Popular Current is "a milestone in the history of the January 25 revolution," Kamal Abou Eita, one of the Popular Current's founders, told Aswat Masriya.
The current is a gathering for the powers of the nation. It will work on creating a balance in the Egyptian popular movement, he said.
"The political arena was left for currents that do not believe in political freedom and the freedom to form unions, so a new current believing in the freedom of beliefs and in syndicate and political activities had to emerge," Abou Eita added.
One of the tools the Popular Current will work on achieving is creating a strong electoral alliance to contest the coming elections "but it essentially aims at creating a historic bloc that maintains Egypt's tolerant nature and social justice," the founder stated.