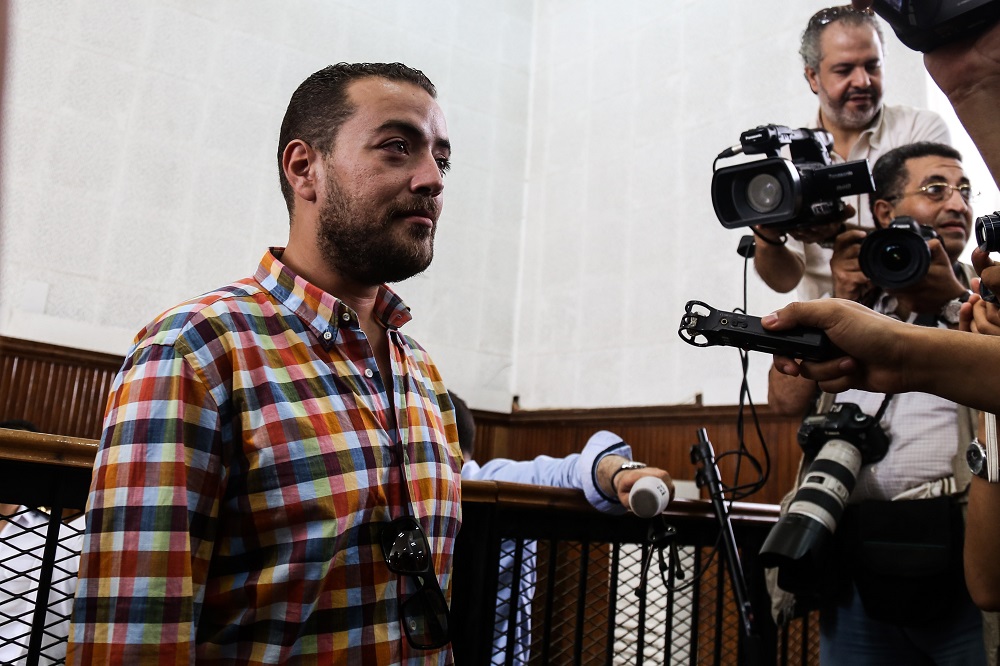 Al Jazeera journalist Baher Mohamed addresses journalists ahead of his sentencing to three years of maximum security prison for spreading false news, on August 29, 2015. ASWAT MASRIYA/Mohamed al-Rayi
CAIRO, Sept 23 (Aswat Masriya) - The Committee to Protect Journalists (CPJ) welcomed the presidential pardon of journalists Mohamed Fadel Fahmy and Baher Mohamed on Wednesday but said this is "a first step".
Earlier on Wednesday, President Abdel Fattah al-Sisi ordered the release of 100 people convicted for violating the protest law, as well as others given health amnesty.
The presidential pardon came one day ahead of his visit to New York to head Egypt's delegation at the United Nations General Assembly's 70th meeting.
CPJ's Middle East and North Africa program coordinator Sherif Mansour said "we are heartened by the news that" Fahmy and Mohammed "will be freed after almost 21 months of politicised trials," in a statement published on the watchdog's website.
However, CPJ is calling on Egypt to release all other journalists.
The New York-based CPJ said in June that the state's imprisonment of journalists is at "an all-time high." The watchdog says there are at least 18 journalists behind bars in Egypt because of their work.
Mansour said Egypt can begin tackling its "shameful record of press freedom by releasing all journalists imprisoned for their work in the country."
Yet, Egypt denies that it is targeting journalists because of their work. In August, Sisi denied that any journalists are detained in cases related to publishing or press freedom.
Alongside Australian Journalist Peter Greste, Canadian Fahmy and Egyptian Mohamed were arrested in Cairo while working for the Qatari network Al Jazeera English in December 2013.
They spent no less than 400 days in prison before their release in February 2015 on different days and under different conditions.
The trio was initially sentenced to prison in June 2014 but a court ordered their retrial earlier this year. The sentence was reduced to three years amid a global uproar.