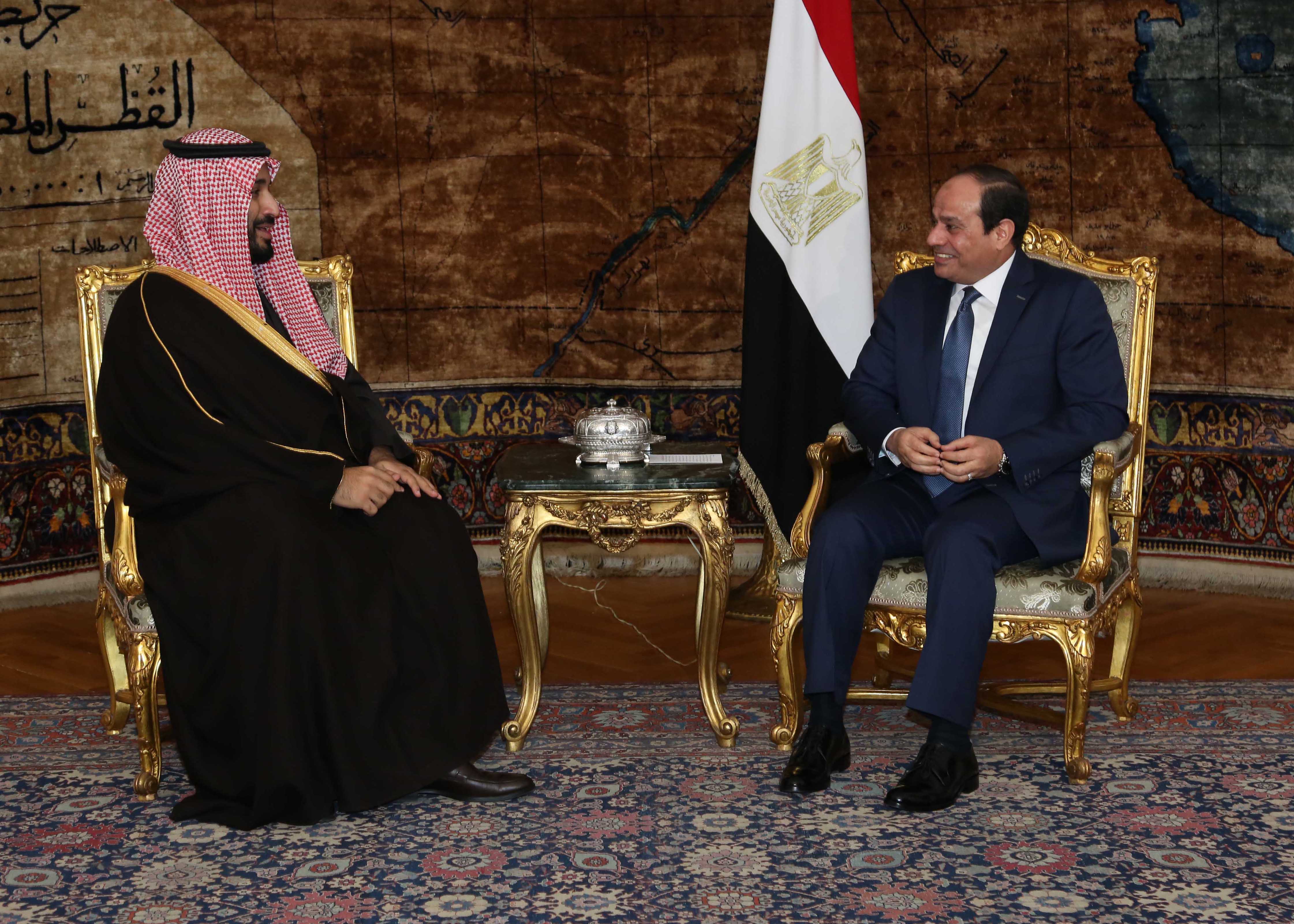 President Abdel Fattah al-Sisi with Deputy Saudi Crown Prince Mohamed Ben Salman Ben Abdel Aziz, Dec. 15, 2015. Presidency Handout.
CAIRO, Jan 5 (Aswat Masriya) - Egypt will sign an agreement with Saudi Arabia on Tuesday allowing it to receive $3 billion worth of Saudi loans and grants, Egyptian Minister of International Cooperation Sahar Nasr told Bloomberg.
Nasr, who is part of an Egyptian delegation currently attending the third Saudi-Egyptian Coordination Council meeting in Riyadh, said on Monday that Saudi Arabia agreed to lend Egypt $1.5 billion for the development of the Sinai Peninsula and $1.2 billion to fund oil purchases, in addition to a grant worth $500 million for Egyptian purchases of Saudi goods and services.
Nasr told Bloomberg that the loans are concessional and will be officially signed on Tuesday. She did not give further details.
The ministry stated on its official facebook page on Monday that, during the preparatory meetings that were held in Riyadh, Nasr urged the Saudis to speed up the flow of investments into the Egyptian market.
Another Egyptian official, Foreign Minister Sameh Shoukry, said on Monday in a joint press conference with his Saudi counterpart held on the sidelines of the Saudi-Egyptian Coordination Council, that the Saudi decision to sever ties with Tehran meets Saudi Arabia's interests and preserves its sovereignty.
Shoukry said that Iran's "intervention" in Saudi affairs is in violation of international law.
On Sunday, protesters in Iran stormed the premises of the Saudi Embassy in Tehran and Saudi Consulate in the northeastern Iranian city of Mashhad and set them ablaze. The attacks come in protest to the Saudi-sanctioned execution of 47 people for terrorism offences, including prominent opposition figure and Shia cleric Sheikh Nimr al-Nimr. Most of the executed were Sunnis convicted of involvement in terrorist attacks linked with al-Qaeda last decade.
An Egyptian national by the name Mohammed Fathi Abula'ti Al-Sayed was among those executed by Saudi Arabia, according to the statement issued by the Saudi interior ministry.
Egypt has enjoyed the support of Saudi Arabia, as well as of Gulf neighbours Kuwait and the United Arab Emirates, since the military's ouster of Mohammed Mursi as president in July 2013 following mass protests against his rule.
In mid-December 2015, Saudi King Salman bin Abdulaziz al-Saud ordered the increase of Saudi investments in Egypt to above 30 billion Saudi riyals and pledged to contribute to providing Egypt with petroleum needs for the next five years. The Saudi king's decision came one day after Saudi Arabia launched Saudi-led "Islamic alliance" to fight terrorism, made up of 34 countries including Egypt.
Saudi financial assistance now comes at a time when Egypt's economy is in dire need. Years of political turmoil have taken a toll on the Egyptian economy, halving the state's foreign reserves and driving away tourists, which has contributed to a dollar shortage.