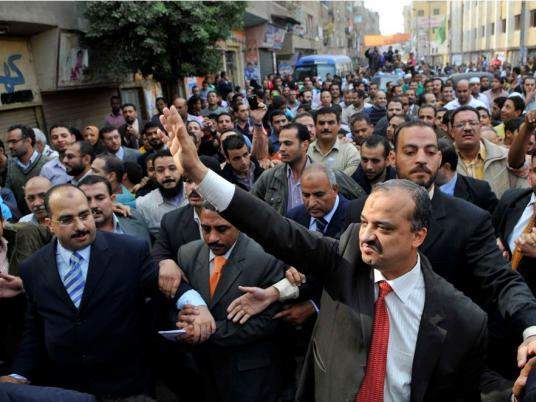 Mohamed Al-Beltagy in Tahrir - Archive
The Brotherhood presidential candidate, Mohamed Mursi, has met with several of the revolutionary figures and youth, reveals prominent Muslim Brotherhood figure and former MP, Mohamed El-Beltagi on his Facebook page Friday.
El-Beltagi states that the Brotherhood also has had various calls with former head of the International Atomic Energy Agency (IAEA) and political figure, Mohamed ElBaradei, as well as liberal Islamist and former presidential candidate, Abdel-Moneim Abul-Fotouh to discuss the latest developments.
He further confirms that there will be a press conference late on Friday to announce a "national project."
"Everyone will announce early afternoon today at a press conference a national project in defence of the revolution, where we will state that our power is in our unity and that we will not accept a coup against democracy," El-Beltagi stated.
The meeting, says El-Beltagi, was attended by Abdel-Gelil Mustafa, Alaa El-Aswany, Ammar Ali Hassan, Hamdy Qandeel, Abdel-Ghafar Shukr, Abdel-Khaleq Farouq, Seif Abdel-Fattah, Heba Raouf, Rabab El-Mahdi, Mohamed El-Saeed Edrees, Saad Aboud, Sakina Fouad, Wael Qandeel and Mohamed Waked.
Amongst the revolutionary youth attending were also revolutionary figure, Wael Ghoneim, Mohamed El-Shahawi, Islam Loutfi, Khaled Abdel-Hamid, Shady El-Ghazaly, Khaled El-Said, Mohamed El-Kassas, Wael Khalil, Ahmed Imam and Mustafa Shawqy.
El-Beltagi stated that the meetings assured that Egypt is on the verge of a new stage, where the idea of the national project can be reshaped to press for the demands of the revolution and work against the addendum to the Constitutional Declaration.
This announcement of Mursi's outreach comes on the same day that Tahrir is seeing thousands protesting the dissolution of the Muslim Brotherhood-dominated parliament, a last-minute addendum to the Constitutional Declaration that limits the presidential powers and the delay in announcing the results of the presidential runoffs between Mursi and long-time aviation head, Shafiq.