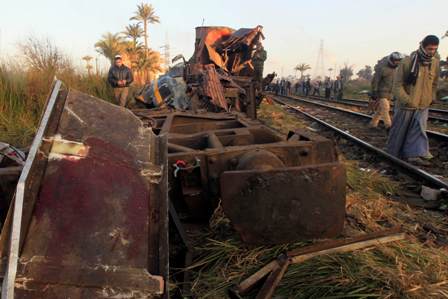 Men walk beside the wreckage of a military train crash in the Giza neighbourhood of Badrashin, about 40 km (25 miles) west of Cairo, January 15, 2013. REUTERS/Mohamed Abd El Ghany
Eighty percent of train carriages in Egypt have exceeded their life expectancy, Egypt's Transport Minister Hatem Abdel Latif said on Tuesday.
Nineteen conscripts were killed and 107 others were injured after their train derailed on Tuesday morning.
"We have a plan to supply new carriages," the minister told al-Hayah channel's Masr al-Gedida TV programme.
The accident occurred due to the separation of one carriage's wheels from the train which caused the carriage's derailment, he explained.
Abdel Latif was appointed minister of transport two weeks ago after his predecessor Rashad al-Matini resigned from his post following an Assiut train crash last November that left around 50 school children dead.
Previous head of the Railway Authority had also resigned from his post following the Assiut tragedy.
There are ongoing investigations and a ministry of transport committee will visit the site of the accident on Wednesday, the minister added.