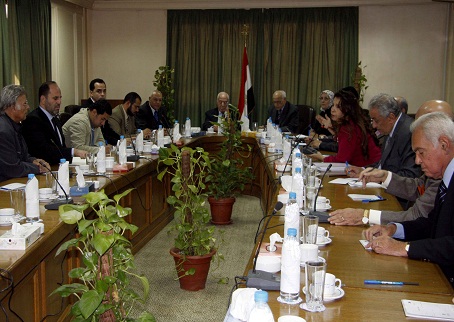 Advisory Council meeting - photo from Shorouk
CAIRO, Dec 5 (Reuters) - Three members of Egyptian President Mohamed Mursi's advisory team have resigned over the crisis ignited by a decree that expanded his powers, presidential sources said on Wednesday.
Seif Abdel Fattah, Ayman al-Sayyad and Amr al-Leithy all tendered their resignations, bringing to six the number of presidential staff who have quit in the wake of a decree that has triggered countrywide violence.
The previously announced resignations included a Christian and a woman. They were part of a presidential staff assembled by Mursi, an Islamist, in an effort to build an inclusive administration.
Speaking to Al-Jazeera television, Sayyad said the three resignations announced on Wednesday had been tendered a week ago.
"We have tried, over the course of an entire week to solve it, but unfortunately we did not succeed," he said.
"We announce now clearly that we failed."