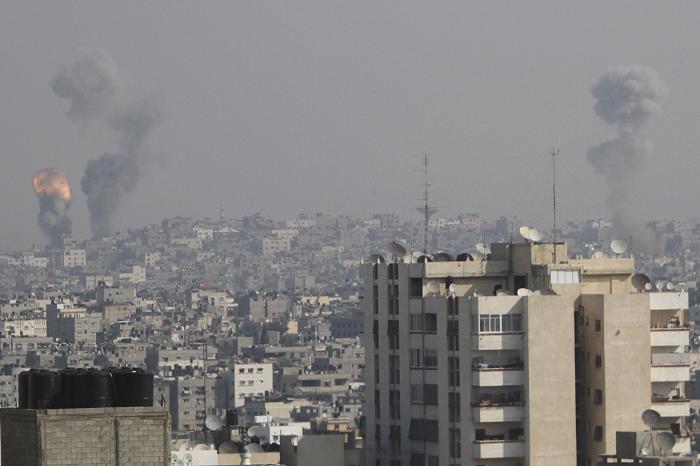 An explosion and smoke are seen after an Israeli strike in Gaza November 15, 2012. REUTERS/Ali Hassan
Groups of Egyptian political parties, revolutionary groups and independent activists announce they will head to Gaza in a convoy on Sunday to show support to the Palestinian people, during an episode of Israeli strikes on the strip that killed at least 39 Gazans over the past week and ongoing.
The convoy will set off from in front of the Journalists Syndicate in downtown Cairo Sunday at 7 am and head to the Egyptian Rafah on the borders and then cross into Gaza, as announced by representatives of the convoy in a news conference Saturday.
Parties and groups who are in the convoy include Socialist Popular Alliance party, liberal Constitution party, leftist Popular Current, centrist Strong Egypt and Egyptian Current parties, Arab Nasserist party, Youth for Justice and Freedom movement, National Front for Justice and Democracy and the Revolutionary Socialists group.
The convoy will head to Gaza to sit with representatives of Palestinian resistance faction, as well as representatives of other Palestinian organizations, as a demonstration of solidarity.
Representatives also announced that in case they were denied entry into Palestinian Rafah they will stage a strike at the border crossing.
"We reaffirm our rejection of the official Arab response [to the Gaza attacks] in general and the Egyptian one in specific. The measures taken by the Egyptian regime does not fulfill the minimum of the demanded action. It is unfathomable that the QIZ agreement is still ongoing, as well as security coordination on Sinai between Egypt, Israel and the United States, after all the blood that has been shed. Moreover, the Israeli embassy should not be operating normally in Cairo as if no popular revolution has occurred" the statement said
"We have organized this convoy to announce our full support to the heroes of Palestine and to reiterate that the war Israel is waging on Gaza now is also a war on Egypt, so a victory for Palestine is a victory for Egypt" the statement added.
According to latest estimates, 39 Gazans have been killed and 345 wounded since Israel launched the aerial campaign on the strip on Wednesday, with at least four fighters among the nine people killed in the latest raids.