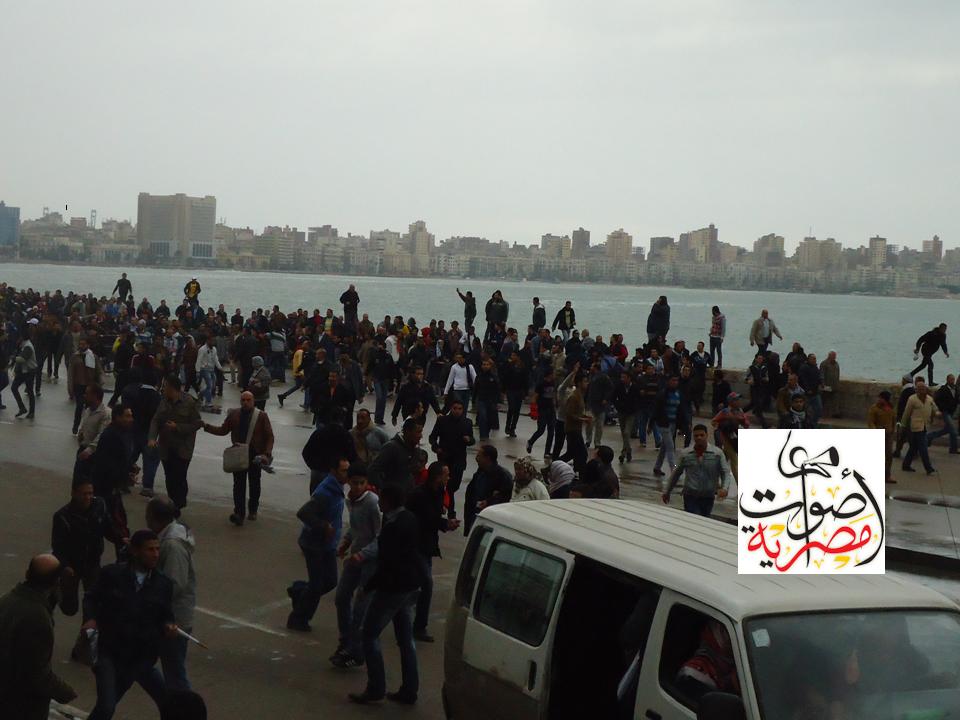 Scuffles near al-Qaed Ibrahim Mosque in Alexandria on December 21, 2012 - Aswat Masriya
Ahmed El-Mahalawy, an ultra-orthodox Islamist and a staunch supporter of President Mohamed Morsi, said Friday's fresh violent confrontations aimed at disrupting the ongoing constitution referendum.
Egypt's health ministry said 32 people were injured after clashes erupted between Islamists, who had staged a rally to condemn what they describe as attack on mosques, and unknown opponents in front of Alexandria's Qaed Ibrahim Mosque after Friday's prayer.
"What is happening in front of the mosque is aimed at halting the referendum. I hope the referendum will go ahead peacefully," El-Mahalawy told Qatari-owned Al-Jazeera television.
"I hope people would move out of the mosque's vicinity. They should not damage the properties of their country."
The protest comes after iconic Alexandria Sheikh Ahmed El-Mahalawy was held captive inside the mosque for 14 hours last Friday by worshippers angered by the overt Islamist rhetoric in his sermon.
El-Mahalawy demanded worshippers last Friday seek the implementation of Sharia (Islamic law) ahead of the referendum's first round, which was regarded as a call to vote 'Yes' for the constitution.
Over 20 people were injured last Friday in the ensuing confrontations and a few vehicles were set alight
The National Salvation Front, led by ex-presidential candidates Mohamed ELBaradei, Amr Moussa and Hamdeen Sabbahi, called on the president to postpone the referendum for two weeks until a national consensus is reached over the constitution, which was drafted by an Islamist-dominated Constituent Assembly.
The referendum took place as scheduled though.
The first phase of Egypt's referendum took place on 15 December across 10 governorates, including Cairo. Unofficial final results of the first round show a 56.5 per cent approval for the draft charter, while 'no' votes reached 43.5 per cent.
The second phase of voting, which will be held on Saturday, includes the remaining 17 governorates.