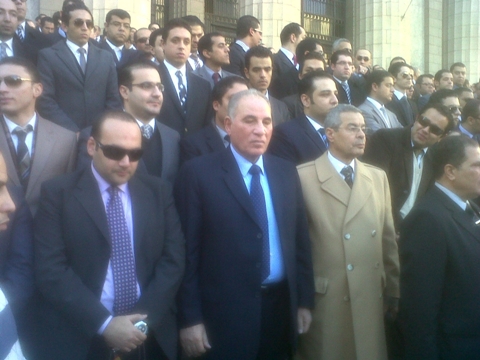 A protest for judges and members of the public prosecution in front of the High Judicial Court in Cairo on December 23, 2012 - Aswat Masriya
Public prosecution members on Wednesday decided to begin a three-day strike starting next Tuesday.
They also decided to file a formal complaint to the High Judicial Council and demand that Chief Public Prosecutor Judge Talaat Ibrahim be deemed "inefficient" in the exercise of his duties.
Hundreds of public prosecutors who earlier convened at the Judges Club approved a proposal to fully suspend work from January 8 until January 10.
The prosecutors will present their demand to the judicial council on January 9 which in turn will hold a meeting on January 12 to discuss the issue.
Citing article 120 of the penal code, they agreed to hand a signed complaint to the judicial council, demanding that the chief public prosecutor be deemed "inefficient" for interfering in the investigations of the presidential palace clashes.