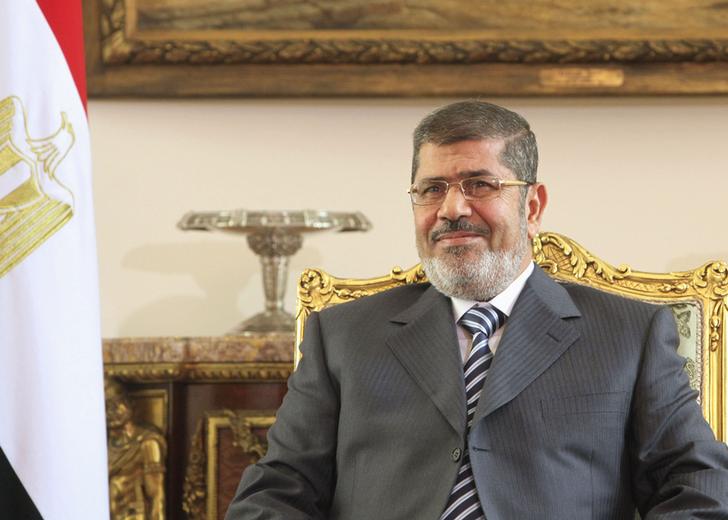 Egyptian President Mohamed Mursi talks with U.S. Senator John McCain (not seen) during their meeting in Cairo January 16, 2013. REUTERS/Asmaa Waguih
CAIRO, Feb 21 (Reuters) - Egyptian President Mohamed Mursi will call a parliamentary election starting in April, a presidential source told Reuters on Thursday, saying the vote would be held in three or four stages.
Earlier in the day the Shura Council, the upper house of parliament, adopted an electoral law as amended by the Constitutional Court, clearing the way for Mursi to set a date for the lower house election.
"The president will issue a decree soon, it could be tonight, calling for elections to start in April," the source told Reuters.
The vote would be held in phases in different regions because of a shortage of poll supervisors. The last lower house election, which was won by Islamists, lasted from late November 2011 until January the following year.
Mursi had been expected to ratify the electoral law by Feb. 25. The lower house was dissolved last year after the court ruled the original law used to elect it was unfair.
The new chamber is likely to have to decide on tough economic measures that the International Monetary Fund is demanding in return for a $4.8 billion loan which Egypt needs to tackle an economic crisis.
On Monday the Constitutional Court demanded changes to five articles of the revised electoral law. The Shura Council accepted this ruling and adopted the legislation without a vote on Thursday.
"The decision of the Constitutional Court is binding and we have no right to vote on it. It must be carried out," said Ahmed Fahmy, the Council's speaker.
The new law bars members of parliament from changing their political affiliation once elected. Under ousted president Hosni Mubarak, independents were often cajoled into joining the ruling National Democratic Party (NDP), which monopolised parliament and political life before the 2011 revolution.
The law also stipulates that one third of the lower house should be designated for independents and bans former members of the now defunct NDP from participating in politics for at least 10 years.
(Reporting by Yasmine Saleh and Marwa Awad; Writing by Marwa Awad; Editing by David Stamp and Mark Heinrich)