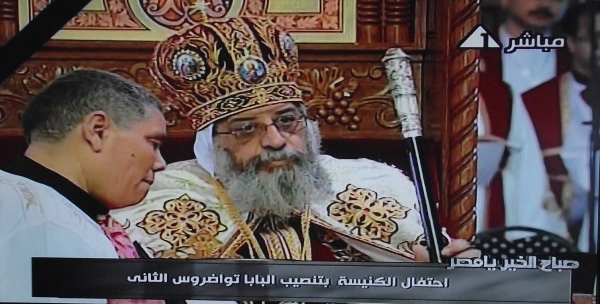 Pope Tawadros II- Snapshot from state-television
Pope Tawadros II expressed his grief on Sunday over the recent Israeli attacks on the Gaza Strip and offered condolences to the families of the victims of Saturday's train-bus crash in South Cairo.
"We share the pain of our brothers in Gaza and we send our condolences to our children in Assiut who faced a tragic accident. We beg for mercy for all", the pope said in a speech.
He was crowned on Sunday in the inauguration ceremony which took place in the cathedral of St. Mark in Cairo.
Pope Tawadros II succeeded Pope Shenouda III, who died in March after nearly 40 years of heading the Coptic Orthodox Church.
Copts now make up about 10 percent of Egypt's 83-million population and are estimated at eight million. They represent the largest Christian community in the Middle East.