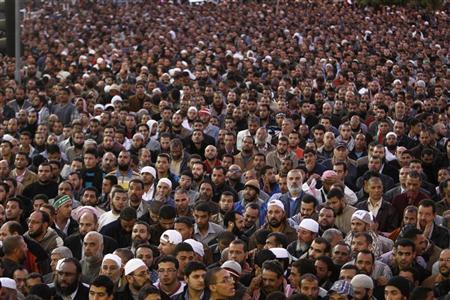 Pro-Mursi Islamists rally on December 11, 2012 - Khaled Abdallah/Reuters
Thousands of demonstrators on Friday gathered at Cairo University to participate in demonstrations the Islamic Jama'a and its Building and Development Party had called for under the title of "Together against Violence".
The Muslim Brotherhood has said it will participate in the demonstrations symbolically.
Hundreds are on their way to the university as they march from al-Istiqama Mosque while chanting "With our souls and blood, we will sacrifice ourselves for Islam".
Demonstrators of the Islamic Jama'a are marching around al-Nahda Square in front of Cairo University and chanting slogans in support of President Mohamed Mursi and the Islamic Shari'a.
The Jama'a rallied its members and transported them from several governorates including Sohag, Minya, and Assiut.