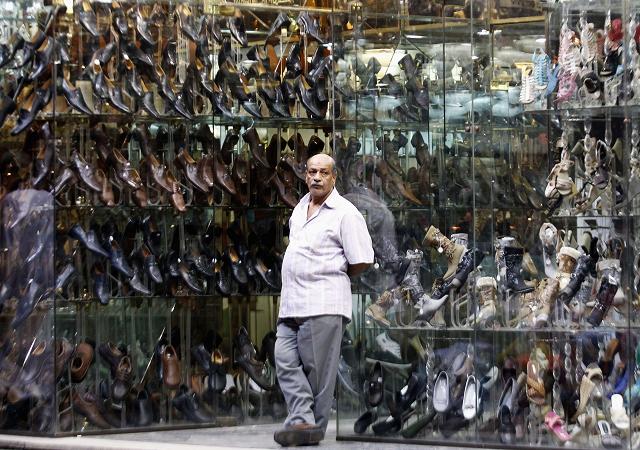 A man stands outside a footwear shop in Cairo October 22, 2012. REUTERS/Mohamed Abd El Ghany
By Patrick Werr

CAIRO, Dec 10 (Reuters) - President Mohamed Mursi suspended planned tax increases on Monday, hours after they were formally announced, in a policy swivel that might complicate Egypt's efforts to secure a $4.8 billion loan from the IMF.

Opposition groups, locked in a battle with the government to over a constitutional referendum scheduled for Saturday, began attacking the tax increases on social media immediately after they were published in the official gazette at the weekend.

They include increases on the sales tax on goods and services that range from alcoholic beverages, cigarettes and mobile phone calls to automobile licences and quarrying permits.

The taxes are thought to form part of an austerity package included in a programme the government has presented to the International Monetary Fund to win approval for the loan it is seeking to shore up finances battered by political turmoil.

The IMF wants assurances that Egypt is acting to cut a budget deficit running at 11 percent of gross domestic product.

Mursi "has decided to halt these decisions from taking effect," his official website said. "He has commissioned the government to hold an open social discussion led by specialised experts to find out how much popular support they have."

The IMF board is due to meet on Dec. 19 to decide on the loan, which was agreed at the technical level on Nov. 20.

"Consideration of the agreement by the IMF Executive Board will require that there is no major change in the economic outlook and implementation plans," an IMF spokeswoman said last month, a week after many thousands of people took to the streets to protest at a decree by Mursi giving himself wide powers.

These plans include the passage of a revised 2012/13 budget that reflects planned tax and spending measures, she said.

Simon Kitchen, strategist at EFG-Hermes, said he thought the IMF would be understanding, given Egypt's circumstances.

"Egypt has already made some small reforms on electricity and fuel pricing in the past few months, so they are moving in the right direction, and the agreement is for 22 months," he said. "But the IMF will be looking for these tax reforms to be reinstated once the political temperature has cooled."

Egypt has said it plans to rein in its budget deficit to 8.5 percent in the financial year that ends in June 2014 by better targeting subsidies and expanding the tax base.