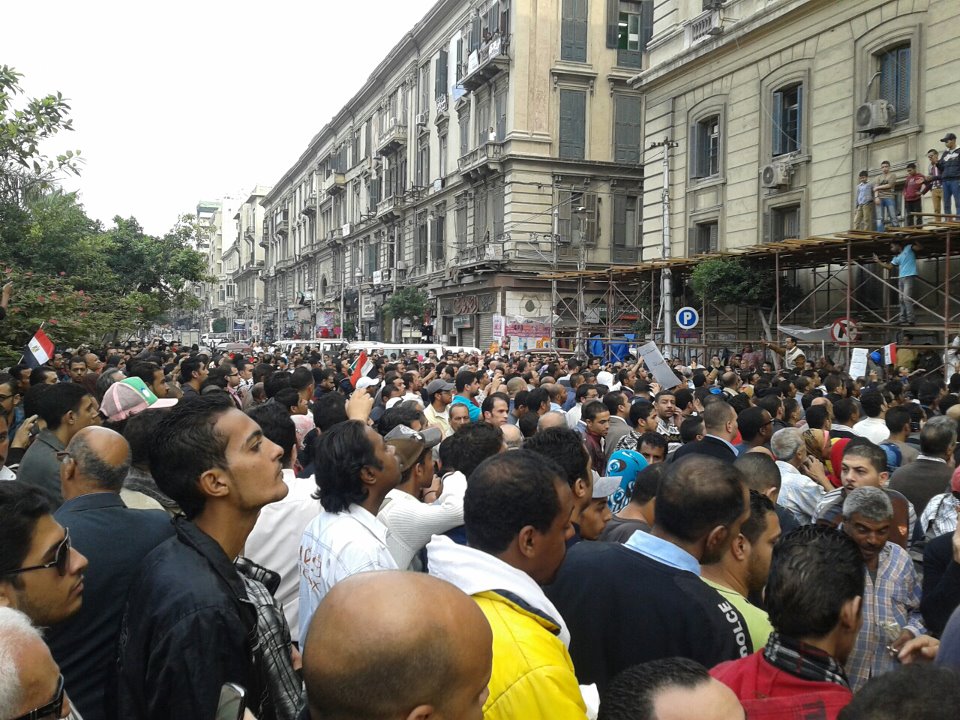 Anti-Mursi protesters in Alexandria on November 27, 2012 in Mansheya, Alexandria - Aswat Masriya
The Revolutionary Socialists and the Socialist Popular Alliance Party are calling for a protest at the High Court in Cairo on Saturday at 5pm to support 13 people, 4 lawyers and 9 activists, who were arrested in Alexandria following clashes between Brotherhood and anti-Brotherhood protesters on Friday afternoon.

Those arrested include Mohamed Ramadan, a lawyer; Mahienour El-Masry, the well known revolutionary activist and contributor to Ahram Online; Youssef Shaaban, a journalist for Bedaya daily website and a member of the Revolutionary Socialists and Mohamed Abd El-Fatah, brother of activist Hassan Mostafa, who was sentenced to two years in prison on 12 March for attacking a prosecutor.

The detained face ten accusations, including damaging the police station, insulting the station's personnel, attempting to help prisoners escape and spreading terror amongst citizens.

They are currently at El-Mansheya Prosecution office in Alexandria awaiting investigation.

The four lawyers who were arrested went to El-Raml police station on Friday night to represent a number of people arrested in the afternoon following clashes between pro and anti-Muslim Brotherhood supporters near the Islamist group's office in Sidi Gaber district.

As news spread, of the arrest of the lawyers and reported attacks on them by police officers inside of the station, 200 people gathered in front of the police station to demand everyone's release.

Protesters reportedly attempted to storm into the station, but were stopped by police forces.

Activist Ranwa Youssef, Shaaban's wife, wrote online on Friday that earlier in the day police forces "ran after [her and her husband], ripped [her] clothes and harassed [her]" in clashes at the station.

Tens of protesters have arrived on Saturday afternoon at the prosecution office in Alexandria where the detainees are being questioned to demand their release after unconfirmed news spread about transferring them to Borg El-Arab prison in Alexandria.

Sameh Ashour, head of the Lawyers' Syndicate, in a TV interview with ONTV on Friday night, denounced "the attack on lawyers who were attempting to do their jobs representing arrested protesters."

Meanwhile, General Amin Ezz El-Din, Alexandria's security director, said on Saturday that 12 police personnel, including an officer, were injured in clashes as protesters attempted to storm into the police station.