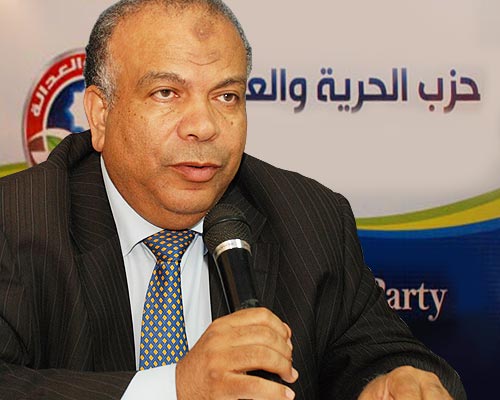 Muhammad Saad al-Katatni, secretary general of the Freedom and Justice Party
Former parliament speaker and chairman of the Muslim Brotherhood's Freedom and Justice Party, Saad El-Katatni, stated Monday that the death of one of the party's members in clashes in Damanhour, along with the burning of the party's offices, confirms that "there are those who want to spread chaos in Egypt."

Late Sunday, following violent weekend clashes between pro and anti-Brotherhood supporters, Islam Fathi Massoud, aged 15, died following an attack by protesters on the Brotherhood headquarters in the Nile Delta city.

El-Katatni called on major national figures and party leaders to speak out against the use of violence and demand restraint from their supporters.

"While we may disagree on political grounds, it is inconceivable to ignore the violent and thuggish actions by different groups, and some alliances with former regime members, against us," El-Katatni said.

Clashes have continued across the country, turning violent in Damanhour and the Delta town of Tanta. A sit-in continues in Tahrir Square, where dozens have persisted for a third day.

On Tuesday, nationwide million-man marches are scheduled. In Cairo, protesters will congregate in Tahrir Square to voice their opposition to the controversial constitutional declaration announced by President Mohamed Morsi last Thursday.

Muslim Brotherhood supporters will stand their ground and demonstrate in support of the declaration and President Morsi in Giza, near Cairo University.