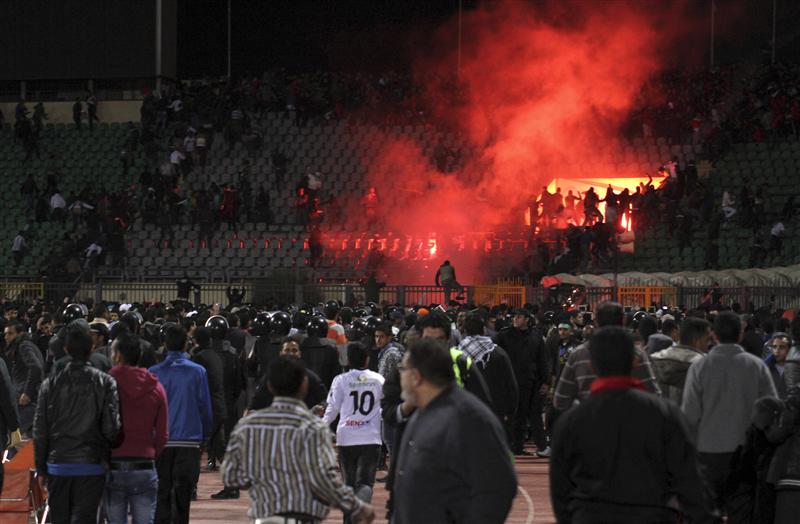 (Archive) Clashes during match between Al-Ahli and Al-Masri clubs in Port Said - photo from Reuters
The defendants in the Port Said football trial will not be transferred to Cairo to hear the verdict on 26 January.
"We have negotiated with the Port Said Appeal Court and the accused will not be transferred from Port Said to the trial headquarters in Cairo [to hear the verdict]," Egypt's Interior Minister Mohamed Ibrahim said in a statement on Sunday.
Ibrahim's statement comes after Ultras Ahlawy, the hardcore fans of Ahly – many of whom died in the disaster – vowed to take matters into their own hands if the verdict does not satisfy them.
Seventy-three defendants, including nine security officials, three Masry football club officials and a number of fans, are on trial for their suspected role in the disaster, which took place in February 2012 and led to the indefinite suspension of domestic football activity.
Thousands of Ultras Ahlawy members rallied in Cairo's Tahrir Square on Friday to demand justice for the disaster's victims.
The Ultras had called for the defendants to be transferred to Cairo where the verdict will be delivered.
Egypt's worst-ever football tragedy left more than 70 Ahly fans dead after they were attacked by Masry fans at a match in the Port Said Stadium on 1 February 2012.
"I demand the Ultras of Ahly and Masry respect the verdict," Ibrahim said.
The verdict can be appealed, he added, and the groups must express their stance peacefully in all cases.