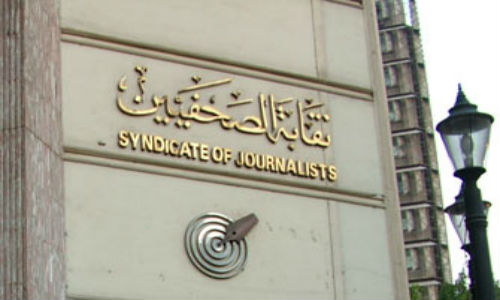 Syndicate of Journalists Protects Journalists
Members of the Journalists' Syndicate will march to Tahrir Square in downtown Cairo on Sunday to call for freedom of expression.
Mass demonstrations are planned for Sunday 30 June to demand the removal from office of President Mohamed Morsi and early presidential elections.
The protests were called for by the Rebel campaign which has organised an anti-Morsi petition.
The decision to protest was made at a meeting of the syndicate's council on Tuesday.
The syndicate said freedom of expression had been restricted during Mohamed Morsi's first year in power.
A statement released after the meeting criticised the new constitution that contains articles permitting the detention of journalists and the closing down of newspapers.
"The current regime has brought back the medieval concept of 'insulting the president' which has been used against 30 journalists," the statement added.
On the other hand, the "door was open" for religious TV channels that promote "sectarian messages" that damage society, in reference to the recent mob killing of Shia Muslims in Giza.
Ultraconservative Salafists preachers have been accused of fuelling anti-Shia sentiment via their TV programmes.
Salafist Calling – the largest Salafist group in Egypt – has dismissed attempts to link it to the murders.
The syndicate will set up a permanent operations room to receive reports of violations against journalists.