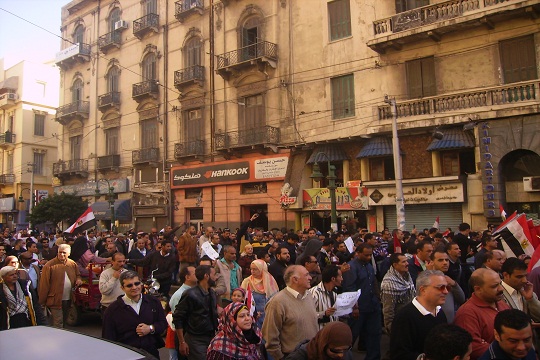 Protests in Alexandria on December 7, 2012 - Aswat Masriya
Around 100 protesters demonstrated on Friday at Alexandria's al-Qaed Ibrahim Mosque denouncing the Muslim Brotherhood's rule and the newly-approved constitution.
The protesters gathered for the demonstration following Friday noon prayer.
Sheikh Ahmed al-Mahallawi, Imam of the mosque, was absent today due to a severe cold, secretary of the sheikh said.
Al-Mahallawi delegated Sheikh Abdel Rahman, a Ministry of Endowments Imam, to give the Friday prayer sermon, the secretary stated, adding that al-Mahallawi will conduct the prayer next Friday "if his health gets better".
Al-Qaed Ibrahim Mosque had witnessed violent clashes on the past two Fridays between Islamists and their opponents after the latter claimed al-Mahallawi urged people at the mosque to vote "yes" in the constitution referendum.